« December 2005 | Main | February 2006 »
January 28, 2006
Happy [Chinese] New Year
Tomorrow is the Chinese New Year, so we cooked up a big meal to celebrate. Katy's favorite is the pineapple fried rice (it's everybody's favorite). And her second favorite is the beef jerky. We were a little concerned as it was very spicy and not intended for baby consumption. She cried when we took half the piece away (Can you believe she ate the other half?!).
Posted by Mike at 05:33 PM | Comments (0)
January 25, 2006
Crayons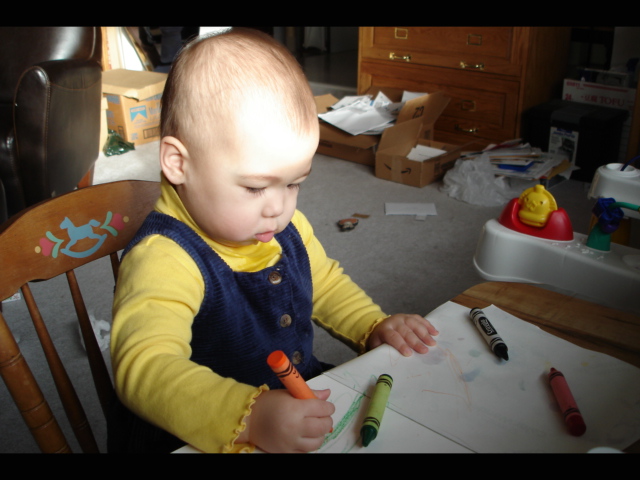 Katy loves to doodle. We had some accidents on the wall. At first, we cleaned it right away. Now we just admire Katy's murals. Thankfully, we bought her washable crayons.
Katy's daddy is her new favorite. Yesterday, her mom had her arms out and asked Katy to come over for a little hug. But Katy just carefully walked around her, ran to her daddy and hugged him. It used to be that Katy was glued to her mommy's arms. She now gets "jealous" when her parents are hugging each other.
The other day, when Katy's daddy went to pick her up at the daycare, the kids as usual were standing near the gate waiting for their parents. Katy was standing in the second row. As soon as she noticed her daddy, she jumped up and down to get his attention. When they were about to leave the daycare, the daycare lady's assistant was passing out pretzels to the kids and of course Katy noticed that. She demanded to have some, and the assistant walked over to the door and gave Katy two pretzels, one for each hand. Yes, she has trained daycare people well. When someone presents her a plate of crackers, she would stuff her mouth first and then have pieces in each hand. We are not sure where this gene is from. Katy's dad denied having such a recollection when he was little. It does sound like something Katy's mom would do.
Posted by Mike at 10:03 PM | Comments (0)
January 22, 2006
The World According to Katy
They are still her favorites. We went to the zoo again today. Katy was a bit whiny; she wouldn't walk -- she wanted her daddy to carry her all the time.
According to the daycare lady, she was very unhappy last Friday. Katy's daddy could hear her crying from outside. The daycare people were surprised how loud she could get. She was a little feverish that day. Katy seemed okay over the weekend, although she was very clingy to her daddy.
Posted by Mike at 09:23 PM | Comments (0)
January 16, 2006
Me and the Kitty
Katy likes to chase the cats. Erik (in the picture) is very tolerant of her, while Wallace just avoids her. She shrieks and yells when she sees them resting up on the cat tress. Poor kitties; they probably miss the good old quiet days.
We went to the park today, but we didn't take any pictures. We have taken Katy to the park before. Katy is a surprisingly timid little girl. She wouldn't try the swing or the slide. She screamed even when we were holding her on our lap in the swing. She just likes to walk around to see other kids having fun. And she loves to walk up to the dogs too, but she wouldn't touch them. She is more like a spectator than a participant at the park.
Posted by Mike at 10:03 PM | Comments (0)
January 14, 2006
Flamingos
She loved them.
Posted by Mike at 07:48 PM | Comments (0)
January 11, 2006
Hello From Sacramento
Well, as we expected, Katy still has an ear infection. She is on a different antibiotics.
On a separate note, this is just a rant, which is sort of related to Katy. On the weekend, Katy was being crabby. She was mad at her mommy so she scratched her glasses. One of the lenses got scratched so bad that her mom is having eye strain. So the family went to Lenscrafters this evening to replace the scratched lens. The family learned a few things: Lenscrafters rips you off, big time. They can't just replace the damaged lens; they must do both and it costs $240, which is 26% more expensive than the price of the original glasses (frame included). The reason they can't just replace one lens is they don't have as good quality lens as the original one (which they didn't tell you). So Katy's mom spent $240 to replace her stylish Costco lenses with THICK ones from Lenscrafters under 90 minutes. But what choices do you have when you have no backup vision devices? Our lessons are: always get two pairs from Costco and don't shop at Lenscrafters again. We are deducting $240 from Katy's measly college fund.
Posted by Mike at 08:34 PM | Comments (0)
January 09, 2006
Puzzle
She seems to like puzzles.
Katy has been sick; we are not sure what the problem is. She might still have an ear infection, or it could be the effects of inoculations she received two weeks ago. The doc has warned us. We are going to see him again on Wednesday, and it is very likely that Katy may be on antibiotics again.
Katy's daddy has been sick too, but he is recovering and we don't think he got the same stuff that Katy has.
Posted by Mike at 07:52 PM | Comments (0)
January 02, 2006
Last One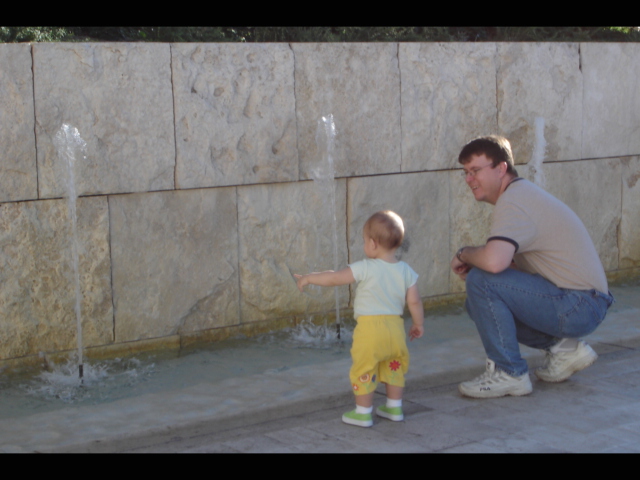 This is the last picture we took at the Getty Museum. Getty Villa will be reopened later this month. We think we might pay a visit sometime this year.
Posted by Mike at 05:59 PM | Comments (0)
January 01, 2006
Sea of Grass
The weather is very unpleasant here, so we decided to post one more Getty picture.
Posted by Mike at 01:35 PM | Comments (0)