« January 2006 | Main | March 2006 »
February 28, 2006
Peek A Boo
Posted by Mike at 08:40 PM | Comments (0)
February 24, 2006
Last Bit of Cheese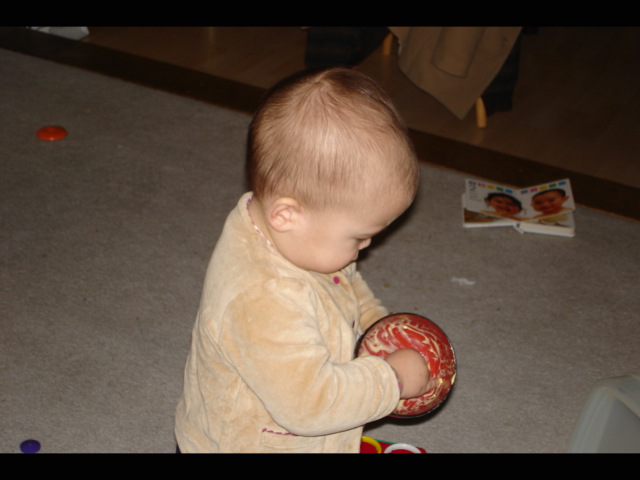 Katy is trying to get the last "lick" of cheese.
Posted by Mike at 06:50 PM | Comments (0)
February 20, 2006
Peanut Butter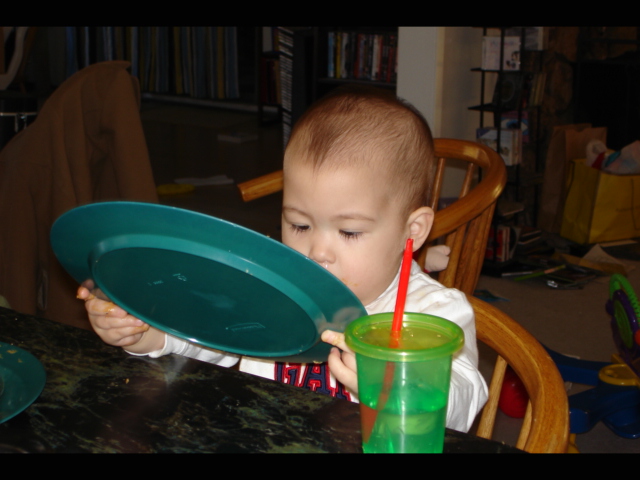 Katy loves peanut butter. If she could figure out how to lick, she would do it!
We had a rough weekend. Katy was crabby on Friday. She was crying in the middle of the night. We gave her Motrin and ear drops to sooth her pain. We also set up the vaporiser to help her breathe. She seemed to feel better, although she finally preferred her mom to hold her instead of Deeda. It was funny to see her pushing Deeda away, very uncharacteristic of her.
Saturday and Sunday were terrible. We wish we had more patience with her. She was just unhappy. Screaming and crying. Throwing herself on the floor. Couldn't be consoled. We just hope we can go see the ENT doc soon to fix her ears.
Finally, she seems to know something about kissing, but only her mom has this privilege. It goes something like this: sometimes when you hold her, she would turn to you and "offer" her lips. Though she doesn't say a word, the visual cues are there. So the mom has to give her a quick kiss. Later last week, the kiss became more "forced." She would grab her mom's neck (sharp baby nails!) and pucker up her lips. Those are some very wet baby lips.
It is funny how there are things she would do consistently with one parent but not the other. For instance, she would force feed her deeda or stick something into his nose or wipe his mouth. With the mom, it is more like yelling or kissing. Don't know how she decides.
Posted by Mike at 09:59 PM | Comments (0)
February 15, 2006
Stairs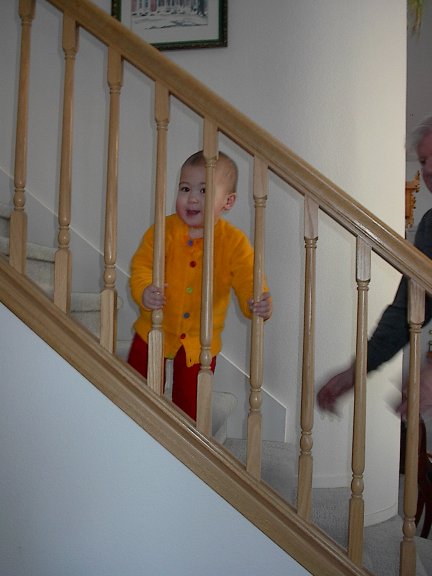 Katy loves to climb the stairs. This picture was taken at her grandparents' a month ago.
Just these last two weeks, Katy got the hang of slides. She would go crazy after them. She can't slide sitting up like big kids do; she would go belly down, feet first, so she can have a better control. She giggles and laughs when she slides.
And Katy is going to see an ENT specialist about her ears in a few weeks. The regular doc was surprised that she didn't cry or scream with ears like hers. Maybe they will get cleared up in a month. And Katy is a very sweet little girl even when she is in discomfort. Can you imagine how much sweeter she can be when she is all healthy?
Posted by Mike at 07:40 PM | Comments (0)
February 11, 2006
Helping Deeda with His Homework
Posted by Mike at 11:50 AM | Comments (0)
February 08, 2006
Play Dough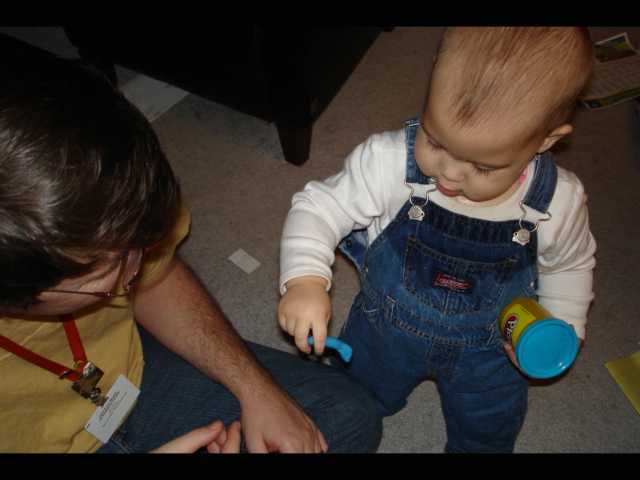 A month ago, Katy did not want to have anything to do with Play Dough. Now she would ask us to open the container for her.
Katy is in better mood when she is on antibiotics. We are not sure what is going to happen next week when we see the doc. It is likely Katy might get tubes if the situation is not improved.
Posted by Mike at 08:05 PM | Comments (0)
February 04, 2006
Musical Toys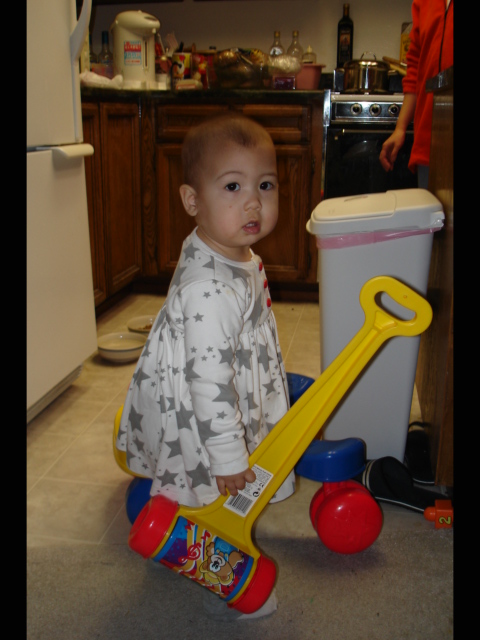 She likes to travel with her musical toys, one in each hand. Very strong Viking baby!
Posted by Mike at 01:23 PM | Comments (0)
February 01, 2006
View from Above
Her hair is getting thicker and longer.
Had a doctor's appointment today. Katy's ears are still bad. One is bright red and the other is thick with fluid. The doctor did not think Katy could hear well. We noticed that she couldn't get consonants right. It is very troubling. Her mom is very concerned that she wouldn't be able to differenciate ㄓㄔㄕㄖㄗㄘㄙ. How can she speak Mandarin well? How is she going to discuss poetry with her mom?
Katy is very very attached to her daddy. The other day, when her parents sat close together, she climbed up to her daddy's lap, sat on his lap, and then pushed her mom away. The good old mom who was the center of her universe only three weeks ago.
Posted by Mike at 08:17 PM | Comments (0)