« February 2006 | Main | April 2006 »
March 31, 2006
Silhouette
Here is another kid-friendly activity at Getty Villa. The silhouette provides inspiration for pottery artists. Katy was afraid to hold any props; she just wanted to hold her mommy's hand. Come to think of it, she was rather timid to try things. For instance, they had holes on a wall and kids were supposed to insert their hands to feel the texture of "clay"; Katy wouldn't put her hand in there, even after watching us. She would rather work on the drawing.
Posted by Mike at 09:46 PM | Comments (0)
March 30, 2006
Katy the Potter
So there is a Family Room at Getty Villa. They had neat activities for kids. As you can see, Katy was very into decorating her pot.
Posted by Mike at 10:52 PM | Comments (0)
March 24, 2006
View From The Other Side
Posted by Mike at 07:18 PM | Comments (0)
March 22, 2006
Katy Rennt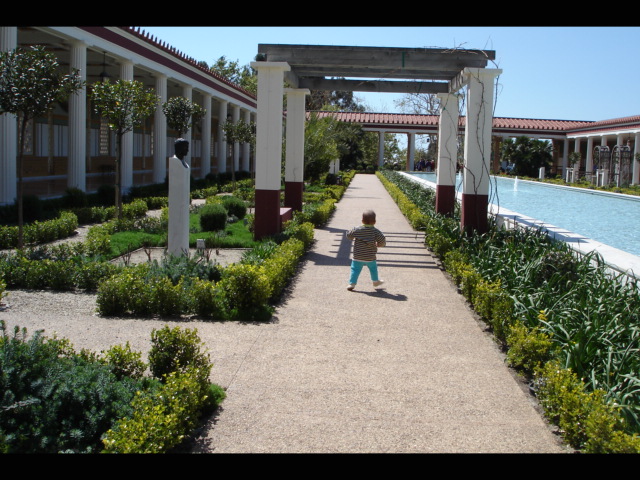 We went to Getty Villa last week. It was a good short trip. Again, we only stayed in the garden areas. Getty Villa is considerably smaller than the Museum. We had a good time.
Getty Villa is free, but you have to make an appointment. Our appointment was at 10:30 but we didn't show up until 11. They let us in. However, the car ahead of us was turned away because they couldn't find their tickets. I guess they were pretty serious about having an appointment.
Katy had a blast in the garden. She ran around and squealed with joy. We just followed her and kept her out of trouble. Good thing there weren't many visitors there, as you can see in the picture. We think she might have been the youngest that day.
Posted by Mike at 10:40 PM | Comments (0)
March 18, 2006
Blow
Posted by Mike at 03:10 PM | Comments (0)
March 16, 2006
Trike
It's Spring Break for one of us here, so we are taking it easy. This picture of Katy was taken two weeks ago in San Jose.
Posted by Mike at 08:35 AM | Comments (0)
March 09, 2006
Hello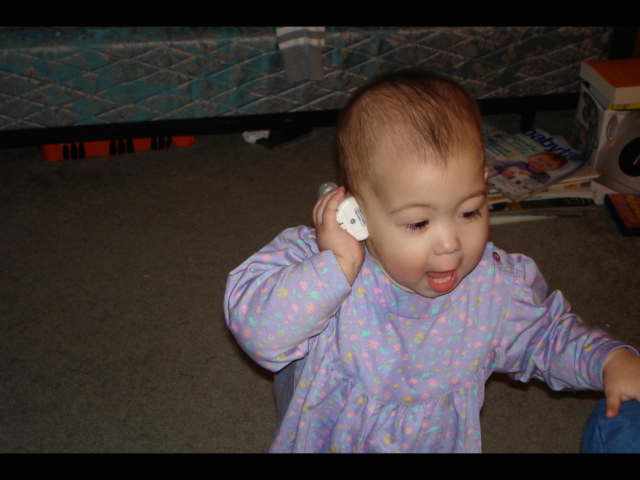 "Hello? Is this Boyfriend No. 2? Yes. Boyfriend No. 1 is on the other line. Can you hold?"
Posted by Mike at 09:07 PM | Comments (0)
March 08, 2006
Yes, I Am The Cutest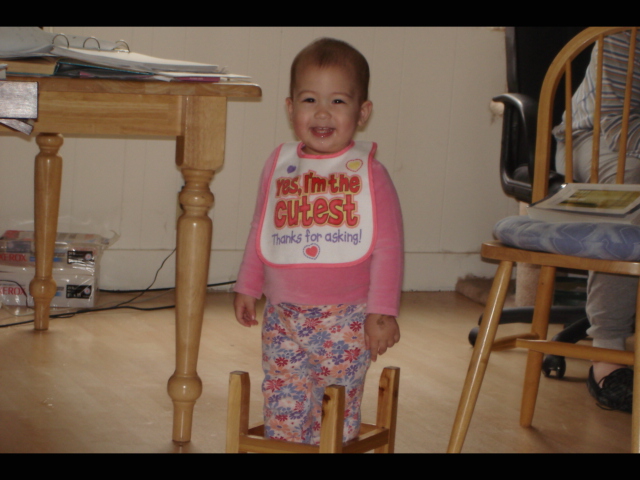 We took her to the regular doc today at the suggestion of the frontdesk receptionist. Yesterday we called the office to schedule her 18-month checkup. Katy's mom told the receptionist that it has been three weeks and the ENT hasn't called to make an appointment. The receptionist felt that Katy ought to have a follow-up with the regular doc until she is seen by the ENT. So we did.
The doc was surprised to see us. We told him what happened and he was annoyed that the ENT hasn't called yet. After he made sure that the referral has gone through, he gave us the number to call to make an appointment.
Both of Katy's ears are bad, by the way. And we do notice a marked decrease in her hearing. Sudden noises do not get Katy's attention. It is worrisome. When we told one of our coworkers that Katy didn't sleep well at night when it was raining, she thought it might be the change in the air pressure that caused discomfort in her ears. That probably makes more sense than loud noises.
Anyway, we called the ENT to schedule an appointment and were told to call back Friday because the docs are all booked. Supposedly, new openings will be available on Friday. We will just see what happens then. The worst case scenario is we finally get to see the ENT in a month and then wait for months for the surgery, which can happen in summer (and Katy may get cleared up by then). In the meantime, we just have to remind ourselves to have enough patience to deal with Katy's crying in the middle of the night.
Posted by Mike at 11:39 PM | Comments (0)
March 05, 2006
Sometimes Fingers Are Better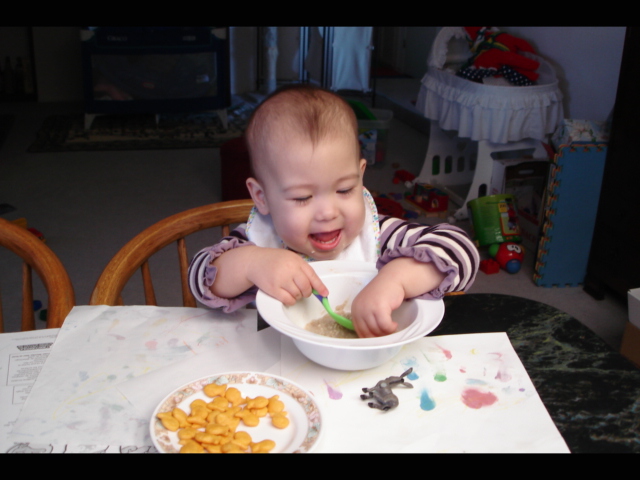 Posted by Mike at 11:38 AM | Comments (0)
March 02, 2006
Self Feeding
Katy likes to feed herself. She also likes to sit on your lap while eating, which was how her deeda won her affection. Every morning, he would sit her down on his lap, and then they both would have breakfast together. After a few days of doing this, deeda became the center of her universe.
In the picture, she was enjoying steel cut Irish oatmeal. It was really tasty, although it took a long time to cook. The other Saturday (two weeks ago, I believe), we cooked the Irish oatmeal with pears. She loved it. But after a few bites, she suddenly stopped eating, stood up, ground her teeth, and started screaming. We thought it might have been her ears bothering her. It was a rough day.
In fact, Katy has been crying in the middle of the night for the last two days. We were not sure if she was in pain (she just doesn't look it) or it was raining so loud that she was afraid. We hope we can see the ENT doc soon. We certainly hope she will sleep well tonight.
Posted by Mike at 09:11 PM | Comments (0)