« March 2006 | Main | May 2006 »
April 25, 2006
Climbing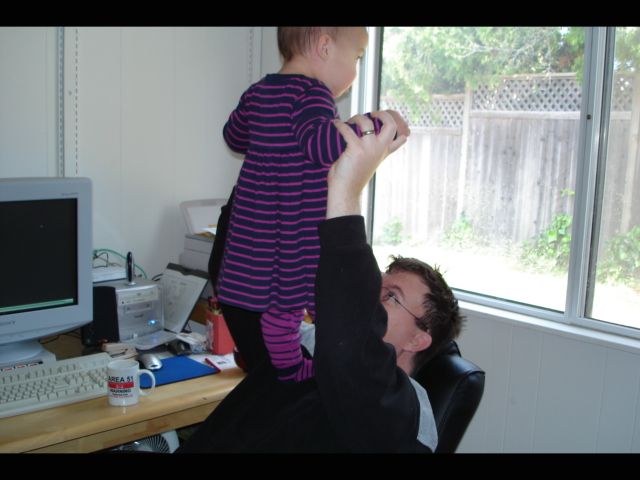 We don't have stairs, so Katy likes to climb us. She has no idea how heavy she is. Sometimes when she climbs onto our belly, she gets so happy that she starts jumping. Katy doesn't understand she is not a little baby any more.
The surgery went well, naturally. We were there for almost 5 hours for a 30-minute surgery. We can't say if we notice anything different. Katy's dad thinks she hears better; Katy's mom thinks that she seems to notice household noises more. As far as language acquisition is concerned, she seems about the same. Sometimes she will say a few words to surprise us, but then she stops. I guess it is common? Neither of us is worried, yet.
We have decided to hire someone to do our yard. We want to have a nice yard for Katy to play. It is surely more difficult to save money when you have a kid. Between the daycare and graduate school, we basically live from paycheck to paycheck. Pretty exciting lifestyle. Sometimes you think that everything will be better once Katy does not need the daycare or when her parent is done with the graduate school, but there will always be something that costs money. If not the daycare or the graduate school, there will be afterschool acitivities or the equipment to go with the said activities. Or home repairs. Or the big medical bill one day.
We are gloomy because we just forked over a nice check to the State of California. We just can't believe we still owed taxes even with a child. We didn't change our deductions after Katy was born, so what's up with that? Unfortunately we are not sick of California yet, so we will keep paying. And to our friends who plan to raise a family in California, the contributions to the 529 plan are not tax deductible (they are not deductible from federal taxes either). So much for saving for college.
Posted by Mike at 11:50 PM | Comments (0)
April 13, 2006
Getting Ready for Christmas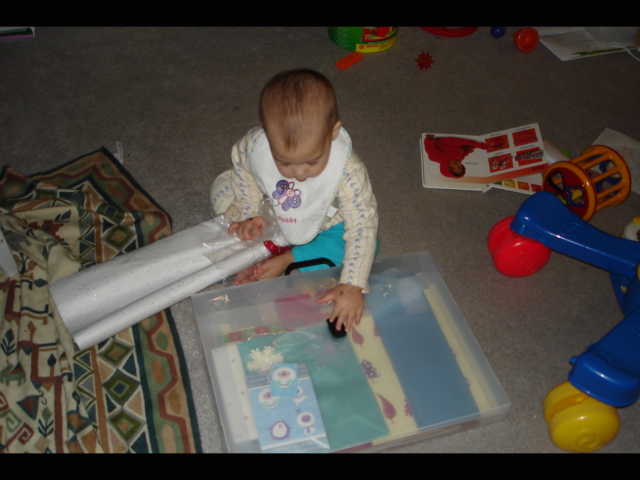 I guess we are turning this MonkeyDiary into a weekly.
Posted by Mike at 11:15 PM | Comments (0)
April 09, 2006
Big Shoes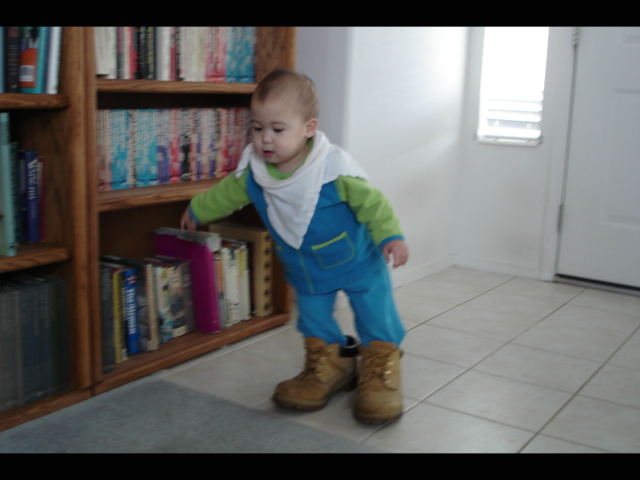 This picture was taken a while back. We don't usually wear shoes at home. So, when we show Katy her shoes or sandals, she would get really excited as she knows we are going out. This little girl loves to go out to see the world. We try to take her out every day, even just to walk around the block, if the weather permits. It is supposed to rain for another week, sigh.
Posted by Mike at 11:35 PM | Comments (0)
April 05, 2006
Complete
No trip is complete without some climbing of stairs.
We got back from the ENT yesterday. Katy is to have a surgery on the 20th. We suppose it is a good decision, as we don't want to put her on antibiotics forever. We could also wait and hope that she would recover on her own. And then we have been hearing stories of grown-ups with hearing or speaking issues because their parents didn't treat their ear infections in time when they were little. It seems that you should do something as opposed to nothing, so Katy has one less thing she can blame us when she is a grown-up. Anyway, the ENT department chair is scheduled to do the surgeries that day, so that is a good news.
Posted by Mike at 05:38 PM | Comments (0)