« April 2006 | Main | June 2006 »
May 20, 2006
Lego Magnets
They are really not suitable for kids her age, but she really loves them. Katy is not the kind of baby who puts everything in the mouth. Since we *always* watch her, we let her play with small objects sometimes.
Well, we are in the process of rebuilding our website because of a major spam problem. Neither of us is a techie type. So in the middle of rebuilding processes, we inadvertently lost all our visitor comments. We don't have many comments anyway. The total we had was about 17 (that's right, 17 for the entire blog), and we really wanted to save those for Katy to see someday. BUT WE LOST THEM ALL! It makes us very, very sad.
Our domain name expires in two months. We talked about continuing the blog. To be honest, Katy is a very healthy normal child. If you look around, usually the parents of healthy normal kids don't keep up with blogging as diligently as parents of less fortunate children. It is possible that there are as many parents of healthy kids who blog, but we don't pay attention to them because reading about some stranger's normal kid is just boring. I suppose this is our excuse of why we don't blog as often. Are we going to keep the blog? Probably. Originally we set up this blog for Katy's grandparents and also for us to see at work. Now Katy doesn't change as much in appearance, it seems less fun to chase her around to take pictures. Especially when one of the parents told the other that, "Sure I like to look at it, but it's more like your project." Huh, okay. Well, Katy loves it, so I will keep it for her. In a few years when she has issues with it, we will shut it down.
Posted by Mike at 12:39 AM | Comments (0)
May 17, 2006
Last Walk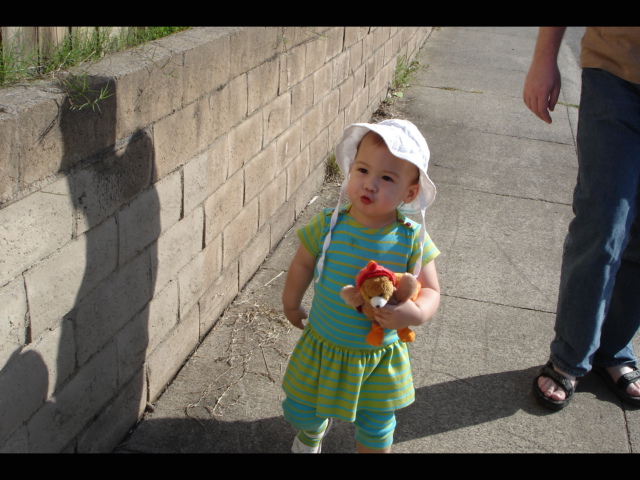 This was the last walk we took together. The following few walks that Katy's mom went along, we took a stroller with us. The first time we put Katy's doll in it. The second time, Katy got tired in the middle of the walk and wanted to be carried, so Katy's mom put her in the stroller. The third time, Katy wanted to sit in the stroller for the entire walk. Naturally Katy's parents frowned on that. Nowadays, it has been just her daddy walking with her; she behaves less like a baby around her daddy.
It has been hot this week, so we were not able to take a walk in the afternoon. The spring in Sacramento lasted about a week or two.
Posted by Mike at 08:13 AM | Comments (0)
May 08, 2006
Lei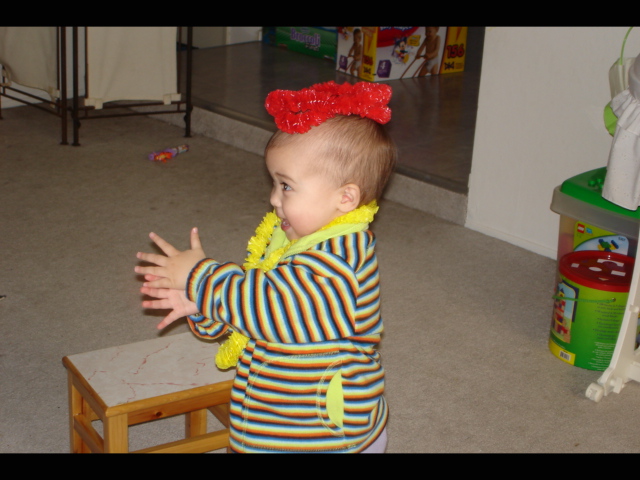 Posted by Mike at 09:38 PM | Comments (0)
May 04, 2006
Getting Ready for a Walk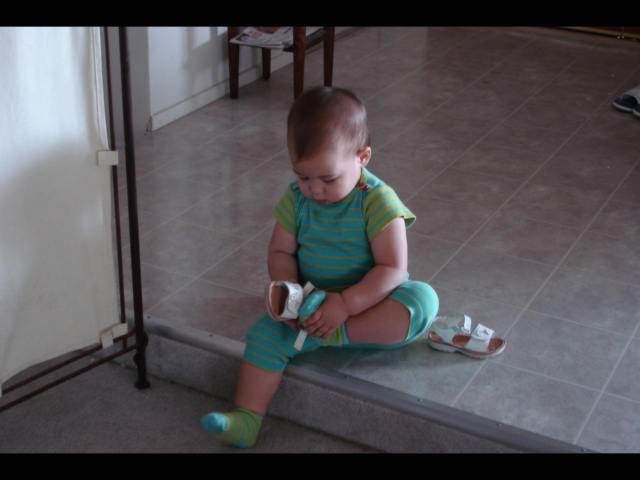 And she knows which sandal goes with which foot.
Katy likes to take a walk in the neighborhood. In the beginning, we didn't have any set routine, but recently Katy seems to believe that there is a schedule we adhere to. Every evening, when all the family members are finally back togher, Katy's dad will make a smoothie. After the smoothie, Katy will put on her sandals and Daddy will go walk with her. Sometimes Mommy will go too.
Today we decided to take a walk first. Katy didn't go very far. She wanted to be carried. Katy's mom talked her dad into going back home. So we went home and made a smoothie. After the smoothie, Katy's dad went back to his study, but Katy, as you can see in this picture, were putting on her sandals. So Katy's mom decided to go with her. But a walk is not the same without the daddy. Luckily, he agreed to go out again.
We didn't go very far before Katy decided she had enough, again. She turned around and headed home. Katy's mom followed her. Her daddy was quite insistent on finishing the walk around the block. Since we hardly disagreed in front of Katy, Katy's mom let her daddy get his way. It was a long walk. A lot of whining. Followed by a big meltdown when we got home. Not because she was tired, it was rather we wouldn't let her bring home the trash she collected on the walk.
And of course, any disagreement on what Katy ought to do would initiate a discussion after she went to bed. We exchanged opinions, but nothing was resolved. Finally, it dawned on Katy's mom about some article she read a while back on how mothers and fathers parent differently. Here is a link to the article. Basically the article is saying mothers tend to "baby" the kids, while fathers tend to push the kids to their limits. Too bad the article only emphasized the importance of the differences; it didn't give an advice on how to resolve the differences. I guess we will just take turn until Katy figures out how to play us.
Posted by Mike at 11:24 PM | Comments (0)
May 01, 2006
Maybe the Tubes Worked
Well, it has been a beautiful week. The spring is finally here! We had a very busy weekend. Katy's grandparents came visit; she was very happy to see them and was showing off how much she could do. She was running around in circles, crawling, riding her rocking puppy, and performing acrobats. Very hyper.
The next day, we went visit friends of ours who are expecting their first baby in October. They wanted to see what it was like to have a baby around. Katy was a good model. She was in a very good mood, even when she missed her naptime. It was then we noticed she could say more. She has been saying a few words here and there, but yesterday she was able to utter at least three words that she has never used before: No way (okay, it is a phrase), Don't, Out. A lot of negative words, in case you haven't noticed.
Our host prepared mango salsa for us. Katy's mom thought it was a good idea to let Katy try some mango. At first, Katy turned her head away. Her mom persisted, and she protested, "No." But her mom really believed that Katy would enjoy the mango, she shook her head and blurted out, "No way!" It was very surprising.
They also had a nice hammock in the house, Katy's mom thought it might be a good idea to take Katy there. Katy was hesitant, so her mom sat in the hammock to show her it was safe. But she was really worried. She grabbed her mom's hand and said, "Out." She wouldn't let anyone try it.
We couldn't remember when she first said "Don't." It was probably one of those moments when we wanted her to try something. By the time we were ready to go, Katy was saying something and pointing outside. We think she said something about the car and that she wanted to go home. Yes, our friends were impressed with her and it surely made them even more excited about having a baby. Haha, wait until they get the first meltdown.
We haven't heard back from the landscaper, so we have no idea how much it will cost to redo the yard. The neighbors next door are a nice retired couple. One day when we came back from work, we noticed that they weed-wacked some of our overgrown natural plants. So here they are, old and not in great health, have to come help us, the young and healthy couple, with our yardwork. Pretty embarrassing. That might change soon.
In this picture, which was taken a few weeks ago, Katy was helping her mom prepare pork buns.
Posted by Mike at 10:25 PM | Comments (0)