« May 2006 | Main | July 2006 »
June 24, 2006
Nevada,
Posted by Mike at 09:51 PM | Comments (0)
Utah,
Posted by Mike at 09:50 PM | Comments (0)
Wyoming,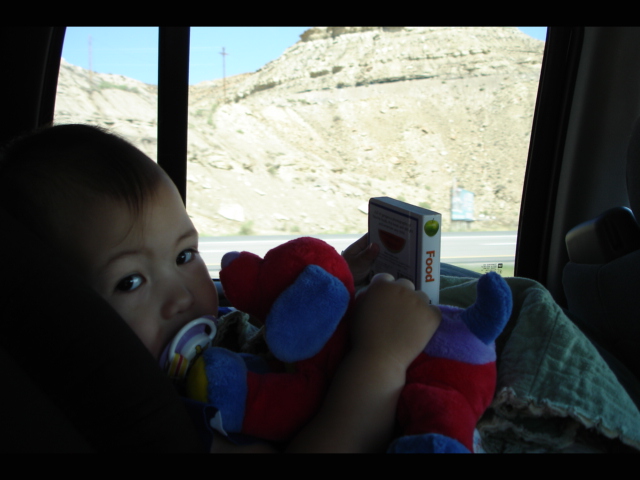 Posted by Mike at 09:49 PM | Comments (0)
and Colorado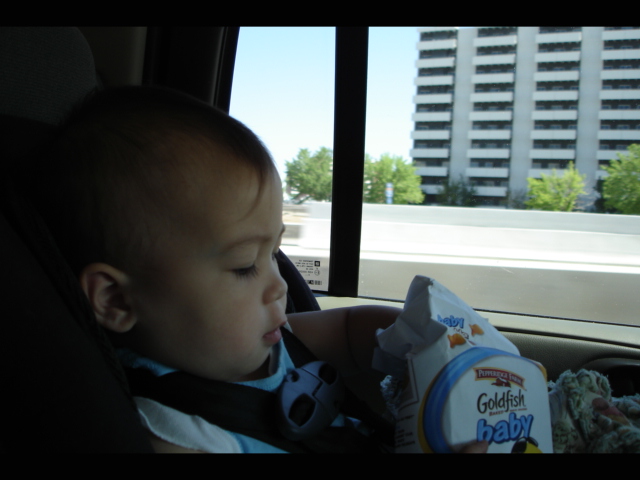 We went to Colorado last week. It was a long road trip. Overall, we think it was a very good experience; Katy did extremely well, considering the circumstances.
It was a two-day drive to Colorado. If any parents reading this are considering a road trip with a baby, try to trick a grandma to go with you. We did and it worked fabulously. There was always someone back there with Katy, and we had three drivers to split the drive. Very smart decision on our part. Grandma also had a good time, by the way.
The big down side was that Katy slept in a different place every night. It was really tough; she couldn't nap and didn't sleep well at night. Her sleep was cut in half every day for 9 days. She was so exhausted that she slept all day when we came back. If we are to do this again next year, we will probably stay in one place so it can give her some comfort and familiarity. Needless to say, when she didn't sleep well, we suffered.
We met with relatives and some friends over there. It was fun. Would do it again. However, we managed to be in Colorado during its hottest and driest time of the year. It was so dry that the two real Californians among us were congested and miserable. Like fish out of water, we would open our mouths to gasp for some moisture in the air. At a friend's advice, we bought tear drops and nose spray to help alleviate the problem. Katy liked the nose spray; we didn't even bother to try the tear drops. Note to self: bring a humidifier next time.
Frisco is beautiful. If you are coming from the west, try I-70. Words can't describe how majestic and gorgeous the Rocky Mountains are.
Posted by Mike at 09:31 PM | Comments (0)
June 22, 2006
McD's
She likes the Playland at McDonald's, but she is too timid to try anything except walking up and down the stairs.
Posted by Mike at 09:11 PM | Comments (0)
June 18, 2006
Father's Day Kiss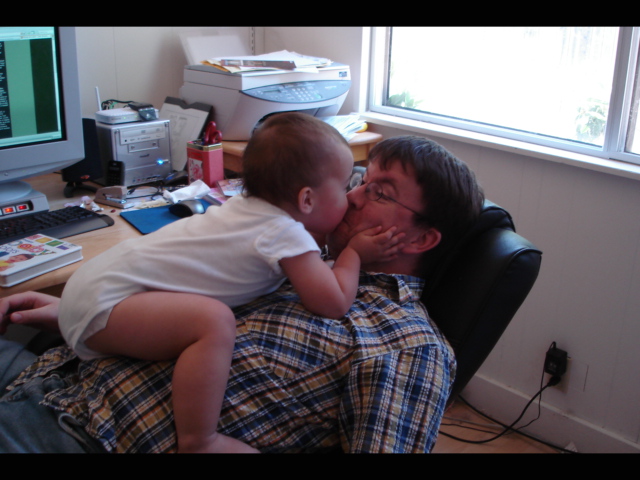 Posted by Mike at 09:41 PM | Comments (0)
June 05, 2006
Trailer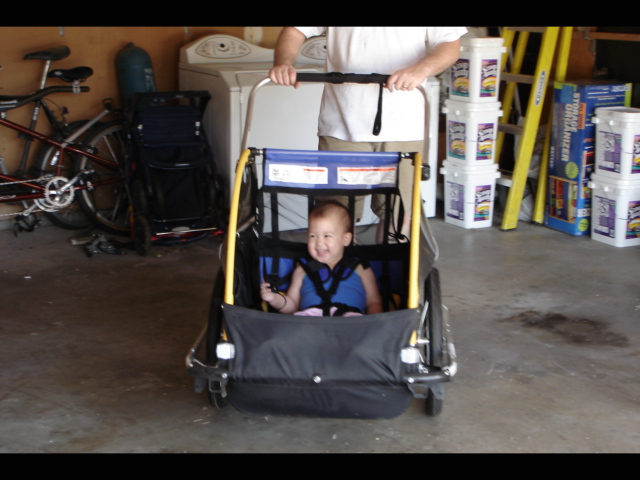 We took Katy out for biking this weekend. The review was mixed. As you can see, she enjoyed being in the trailer. But once you put on the helmet and the cover, she started screaming. She was okay once we started biking. She was laughing when her daddy biked around in the parking lot with her in the trailer. No picture to show it, because when he stopped so Katy's mom could retrieve the camera, she screamed.
We didn't go very long. It was hot. By the time we were done, Katy fell asleep. She was hot and sweaty. I think we should get up earlier to go biking.
Posted by Mike at 09:02 PM | Comments (1)