« June 2006 | Main | August 2006 »
July 31, 2006
New Dress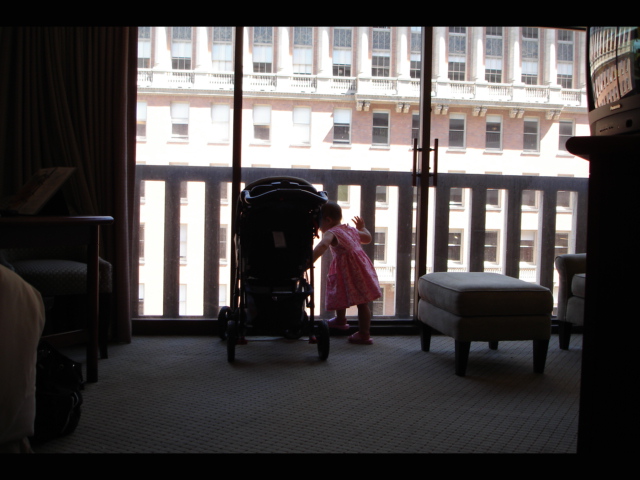 Katy's grandma made her a couple of dresses. They were perfect for our trip to SF.
Posted by Mike at 08:32 PM | Comments (0)
July 29, 2006
Ghirardelli
This was taken last week. The weather is finally cooling off.
Posted by Mike at 12:39 PM | Comments (0)
July 26, 2006
Fountain
She likes fountains.
Posted by Mike at 05:21 PM | Comments (0)
July 25, 2006
View from the Room
Looking out of the window in the morning in San Francisco (sorry, no Katy).
It was over 110+ over the weekend, so we went to San Francisco again. This time we spent an extra night. It was pretty warm in SF; I think at one point it got to 90 degrees in the afternoon. A tourist from Chicago thought the weather was pleasant. I wonder what summer is like in Chicago?
We didn't take the ferry this time. Now that we know where Ferry Building (featured in the picture) is in relations to the area, we might do that next time. And I don't think we will be going back to the city again if it is over 100 this weekend. We might try Fort Bragg.
Posted by Mike at 10:17 PM | Comments (0)
July 19, 2006
Water Fun
Katy is getting more like a little girl. She is at the height of the "Terrible Twos". Just a few months ago, she would look sorry when she spilled something and then try to clean up. Now she acts defensive and screams at us when she spills.
The other day, she was mad at her mommy for some reason. Well, her mommy made something yummy and was carrying it across the room. Since she was mad at her mommy, she sat very still, refused to look at her mommy, but watched her very closely from the corner of her eye. You certainly don't want to miss yummy food even when you are mad at someone. This watching from the corner of her eye thing has been going on for a few weeks. She does it occasionally when she wants to pretend she is not interested in us.
And her language development is reaching a new stage. She understands Chinese fine, but she would respond in English. When her mom told her in Chinese to put on shoes to go out for a walk, she ran over to her shoes and said, "shoesh." There are few words she says in Chinese exclusively, like cat, bath, and cute. I think these just might be the only Chinese words she says. I guess as long as she understands it, she might still be able to master it someday.
Our baby lies too. There are times when we notice her diaper is not fresh and we would ask, "Did you poop?" She would say no and expect us to leave her alone. It is quite a change since she was very little. When she was very little, she didn't like her diaper soiled. But now, she just wants to play and not be bothered by diaper change. Of course there are times when she is telling the truth.
Finally, a big point that proves she is a little girl: she loves new shoes (or sandals). She likes some new clothes too, but she definitely loves new shoes.
Posted by Mike at 09:17 PM | Comments (0)
July 18, 2006
The Rock
Posted by Mike at 05:58 PM | Comments (0)
July 17, 2006
The Bridge
It was 109 today! We sure miss San Francisco. We are seriously considering going back there this weekend (it is very unlikely).
Posted by Mike at 07:56 PM | Comments (0)
July 16, 2006
The City
It was over 100 degrees in Sacramento, so we decided to spend the weekend in San Francisco, specifically the Fisherman's Wharf. It was much cooler over there, as you can see in the picture.
The trip was good; we would go back again. However, Saturday was rather insufferable; there were too many tourists in the area. The crowds made one of us pretty cranky. It got better once we entered the hotel. We used Priceline to book a room at the half price. It was a nice fancy room, but the parking was very expensive. We might use the ferry next time. Sunday we managed to walk around before the tourists got there, so it was a very pleasant short walk.
Katy loved the clam chowder. We probably won't go to a restaurant next time; it was too much for her.
Posted by Mike at 06:35 PM | Comments (0)
July 09, 2006
Katy the Swordsmonkey
Katy's greatgrandma from Taiwan is visiting in San Jose. We have been going there almost every weekend while her daddy stays at home trying to catch up with his studies. Even seeing the relatives every weekend does not help with her separation anxiety; she still refuses to let anybody hold her except her parents (and the daycare ladies). It makes her mom very tired, physically and mentally.
The swords in this picture, of course, belong to her little cousins. It is nice to be the youngest in the family. All grownups tell the little cousins to let the baby have her way.
Posted by Mike at 08:19 AM | Comments (0)
July 05, 2006
Yard
Here is a glimpse of our new backyard.
Posted by Mike at 08:43 PM | Comments (0)
July 04, 2006
Happy Fourth of July
The weather was really nice. Katy is still too young to stay up to see the fireworks. Maybe in a couple of years.
We watched the World Cup semifinal between Germany and Italy. It was a very good game.
Posted by Mike at 08:30 PM | Comments (0)