« July 2006 | Main | September 2006 »
August 13, 2006
Wabbit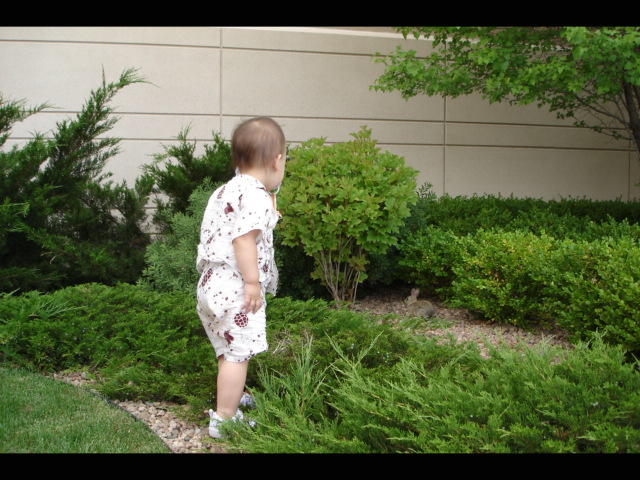 This was at Flatiron Crossing, a fancy mall in Colorado.
Katy is speaking more Chinese words. And of course some English words. No sentences yet. But it is looking good.
We got her more Chinese books. Does anyone know a good place to get Chinese books? We have been using www.books.com.tw, but it is very expensive bacuase the shipping costs about half the total price of the books. Granted the shipping is fast, roughly a two-day turnaround, but we can settle for slower shipping. Unfortunately there is no such option. On top of that, it is hard to find a good Chinese book online. The readers don't leave enough reviews like Amazon readers, so we were unable to make a decent judgement and a few of the books we bought end up in the charity bin.
Also, we tried to get books written by Chinese, not some translated works. But with globalization and whatnot, all the kids in Taiwan are busy learning English. Or bilingual books. No, no, no, I want good old bopomofo books.
We talk about going on a trip to Taiwan and buying as many books as we'd like and shipping them via surface mail. It is not necessarily cheaper because the airline tickets will cost extra thousands (and don't forget the flight troubles we face recently). But it would be really nice just to go for a visit.
Posted by Mike at 01:30 PM | Comments (0)
August 08, 2006
Greatgrandma Alice's Fountain
This is an "old" picture taken about two months ago in Colorado. We are slow here; we aren't taking as many pictures as we used to.
We are happy to finally put the yard in. When the back slider is open, Katy would put on shoes and go out to the backyard to play with her ball.
Posted by Mike at 09:58 PM | Comments (0)