« October 2005 | Main | December 2005 »
November 30, 2005
Reaching
for her favorite rice crackers. Katy's grandparents bought a big carton of rice crackers for Katy. Katy's mom also liked the same rice cracker when she was little, but she didn't get to have a big carton to reach for.
We are fully recovered from the holidays. Katy is back on schedule and is in happy mood most of the time. She has been pretty healthy so far. Katy now prefers walking to being held. I guess she found her freedom.
Posted by Mike at 06:58 PM | Comments (0) | TrackBack
November 29, 2005
Typical Katy
She LOVES to play hide-and-seek.
Posted by Mike at 07:20 PM | Comments (0) | TrackBack
November 28, 2005
Have Toys, Will Travel, Part II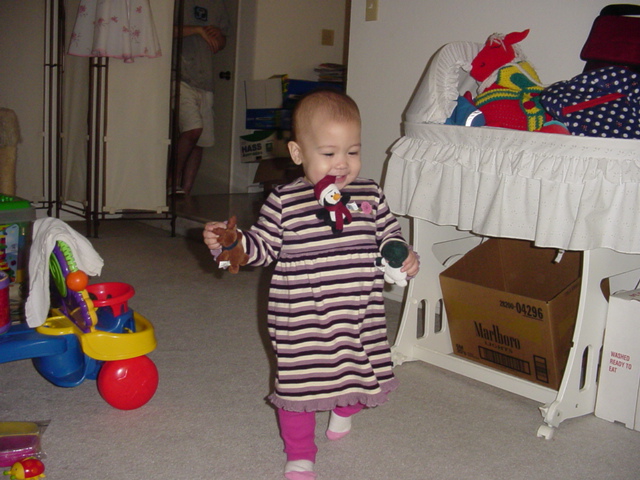 It has been three months. Katy just found out that you can carry more stuff if you use your mouth.
Posted by Mike at 08:06 PM | Comments (0) | TrackBack
November 26, 2005
Resting
Katy's grandparents were here earlier this week. Katy's grandma spoiled her rotten by constantly making her yummy food. She is not our little monkey any more.
Katy's sleep schedule is all out of whack; we are all exhausted.
Posted by Mike at 05:50 PM | Comments (0) | TrackBack
November 16, 2005
Fingerpainting
We found an easy recipe for homemade fingerpaint. We showed it to Katy, but she was afraid to touch it. She spent a total of 3 minutes to "play" with it.
We haven't slept too well for the last few nights. Katy would wake up in the middle of the night coughing or crying. She screamed early this morning (like 3 or 4). Her mom went to check on her, and it seemed that Katy had teething pain. Katy's mom gave her Tylenol and took her to the family bed. Obviously her mom was too tired to make a sound judgement as Katy got too excited to fall asleep.
So Katy's mom took her back to her crib. Katy was quiet for a few minutes, and then she faked cry. We ignored her for a while, hoping that she would stop. Finally her daddy said, "Let me go put the pacifier in her mouth." And he came back with Katy. We were "lucky" this time she fell asleep right away. However, poor thing had a runny nose, so she has been "whistling" through her nose, keeping us awake.
Eventually, Katy's mom got up to put her back in her crib. By then, the alarm was about to go off. Of course, Katy was chirpy when she woke up in the morning.
Posted by Mike at 07:25 PM | Comments (0) | TrackBack
November 13, 2005
The Mystery of Rubberband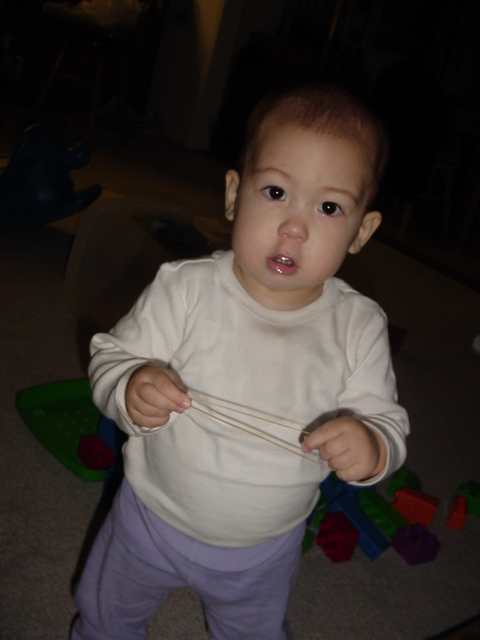 It fascinates her. I think it snapped on her fingers a few times, but she didn't cry.
Maybe you can tell from this picture that Katy has a runny nose. Her other molar is coming out. She was not easy to be with this weekend. We don't think she was in pain, but perhaps we might have thrown her off her schedule a bit.
Katy is very interested in little kids. She would yell at them to get their attention. Sometimes she would follow them to see what they are doing. She doesn't like to get too close to them, but she definitely wants to see them and wants them to notice her. I wonder how this is going to turn out when she is a teen.
Posted by Mike at 08:25 PM | Comments (0) | TrackBack
November 11, 2005
Toddle
Katy is walking very carefully. This picture is a couple of weeks old. Katy is fun to hang out with now. Don't know how long it will last.
Last night, she pointed at her daddy and said, "Daddee." She seems to understand that when you point at something, she is not supposed to look at your fingertip. Half of the time she still does. Last night was interesting that she was the one pointing and saying things.
We took her to Johnny Rockets last night. We are happy to report that she wouldn't even try the fries. But she tried the milkshake and liked it. She also had egg salad and liked it.
Posted by Mike at 06:18 AM | Comments (1)
November 08, 2005
Curiosity
Katy is watching her daddy shaving.
Katy seems more attached to her mom right now. Her daddy used to be her favorite. Katy still likes to hang out with her dad because he is a lot of fun, but her mommy would hold her as long as she wishes. She is more "whiny" around her mom too.
Katy also seems to understand us better. She seems to be able to understand Chinese and babbles a few words that sound like Chinese. We are not doing much sign language at the moment. We sign "milk" and "eat" a lot, but we are not really pushing it. One problem is we can't always catch Katy's attention at the right moment. For instance, over the weekend we went visit her grandparents who have nice doggies. She focused her attention on the dogs; while we think she heard us saying "dog" but she obviously didn't see us signing "dog". Secondly, we don't often have free hands to sign; we are always holding something for her or keeping something away from her when she is around. I guess we could resort to the video method to teach her new stuff.
Posted by Mike at 10:33 PM | Comments (0) | TrackBack
November 07, 2005
Dashing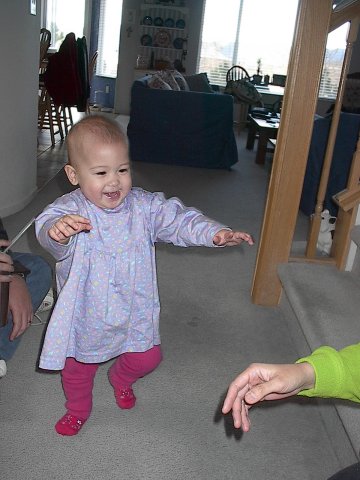 Katy's molar teeth are coming in; the left one is poking through and the right one is raising a bump. She seems to be doing very well. Happy and playful. And she gets around pretty well now, although she still prefers to be picked up.
Posted by Mike at 10:20 PM | Comments (0) | TrackBack
November 03, 2005
Toothbrush
Posted by Mike at 11:04 PM | Comments (0) | TrackBack