« September 2005 | Main | November 2005 »
October 31, 2005
The Obligatory Halloween Picture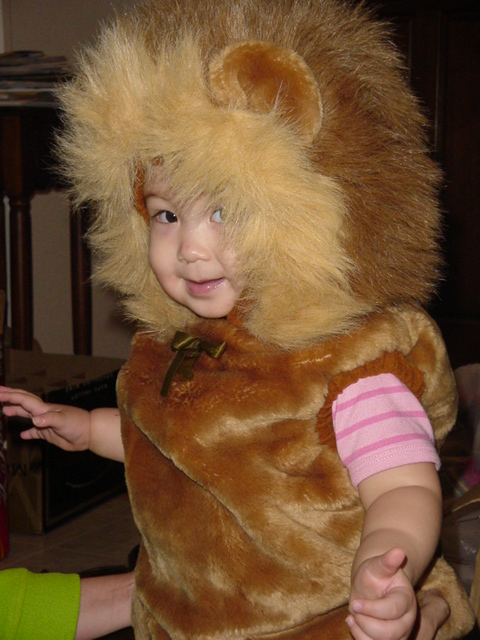 ROAR! Katy is dressed as a lion, in case you can't tell.
Her mom bought her a nice cow suit, but like any good parent trying to save a buck, she ordered it one size too big. Fortunately we were able to borrow a costume. We only went to our neighbors next door for trick-or-treat. Maybe next year we can do the whole block.
We had a pretty rough weekend, because Katy had a high fever (well, we think it was high but AAP thinks it was within the "common" fever range). She was crabby and didn't sleep well. She cried every two hours in the middle of the night. We are not sure what the cause was, but we think she might be teething. Although "sources" point out that teething fever shouldn't get higher than 100.4 degrees, by talking to coworkers and also from her first teething experience, we think Katy's molar(s) might come in.
Posted by Mike at 07:49 PM | Comments (0) | TrackBack
October 29, 2005
Flags, Flags, Everywhere
I guess winter is here, because Katy is sick again. This time her right eye is slightly infected; we are watching her closely.
In this picture, you can sort of see Katy bending over to pick up the Post-it flags. It is not an easy task for babies.
Posted by Mike at 02:46 PM | Comments (0) | TrackBack
October 25, 2005
Big Question
Katy likes to flip through the pages.
Today is Katy's other greatgrandma's lunar birthday; Katy is a quarter Hakka. The trivia is: what is Katy's lineage?
Posted by Mike at 09:32 PM | Comments (0) | TrackBack
October 24, 2005
All Sick
It was a rough weekend. The O'Brien household was sick. Katy has been sick for a while, but it was just a regular cold. On Thursday, however, we were told that she had diarrheas three times in the afternoon; otherwise she seemed normal - playful, no fever, etc. Friday she was fine. Saturday she had diarrheas again, so we changed her diet. It seemed to help until Sunday afternoon, when we had to change her diaper every 15 minutes. Katy has been on Pedialyte ever since. Other than being stinky, she has been quite normal, probably more lovey-dovey than usual.
Anyway, we looked up AAP's "Caring for Your Baby and Young Child" and found some interesting information (other than diarrheas). Fascinating. Katy's looks will continue to change, according to the book. Katy's current look, just like the book said, are still "round and soft." Her head and abdomen are still the largest parts of her body. Her arms and legs are relatively short (thankgoodness) and soft and her face has softly rounded contours. By her second birthday, her arms and legs will lengthen, her face will become more angular, and her jawline will be better defined. Also her walking will change: now her toes are pointing outward and lurching from side to side, but eventually her walking will become more mature (toes pointing forward and feet close together).
All this new information just made Katy's mom realized that Katy's daddy is still a toddler!
Posted by Mike at 09:12 AM | Comments (0) | TrackBack
October 18, 2005
Pick Up
Here is Katy picking up after her toys. She now puts everything in the Lego tub: stuff animals, Post-It flags, comb, etc. She puts the Lego blocks in her playpen. Katy likes the tub a lot; it is translucent, so she likes to play "peek-a-boo" or check things out through its sides.
Katy's walking has shown quite an improvement. She did a lot of walking for us yesterday; she walked around in our family room. Katy liked to lunge forward when we had our arms out or when she wanted to get over an obstacle.
Posted by Mike at 08:21 PM | Comments (0) | TrackBack
October 14, 2005
Hold My Hands or I Won't Walk
This was (and still is) very typical of Katy. Even if she is holding onto our fingers, she is contented. We tried to trick her by giving her a toy to hold and we would grab the other end of the toy. She is too smart for that.
Anyway, Katy walked for us yesterday. Five little steps! No pics though. We are hoping she will do better this weekend.
Katy has managed to teach her little friends at the daycare to say "Uh-oh." When her daddy picked her up, all the kids yelled out "Uh-oh!" We are trying to teach her other words, but she LOVES her uh-ohs.
We forgot to mention that Katy wouldn't nap for us over the weekend. It was our own fault. She usually wakes up at 7, but who wants to wake up at 7 on the weekend? We waited until 9 to get her up. (Poor baby must be starving! Sunken cheek!! Call CPS!!!) Um, so she got up late and wouldn't nap in the afternoon. We just left her in her room and it usually worked. But not this time. One of the cats was meowing frantically; her daddy thought it had compassions for Katy. Wrong wrong wrong. We finally went in to check on her. First, "our" other cat dashed out of her bedroom (poor Erik was trapped in her bedroom). Second, she disassembled the mobile, with all the little parts on the floor. So a possible scenario was that Katy was just so happy to see Erik in her room, she removed the little mobile and threw its parts at him. She didn't nap that day, but she was very very happy when we walked in.
Posted by Mike at 10:06 PM | Comments (0) | TrackBack
October 10, 2005
Baby at Work
If you need your CD collection re-organized, we have the perfect baby for the job.
Yes, we notice Katy is allergic to the sun. She sneezes when we enter a bright sunny spot. Even when we sit in the car, she sneezes when sun rays touch her face. Our little vampire.
This morning she had her last bottle of formula. I guess we're both a little sad about that. She's growing up faster than we can keep up with her.
Posted by Mike at 07:34 PM | Comments (0) | TrackBack
October 08, 2005
Why She Prefers Magazines to Board Books
Let's see...
Several things to report:
She can sign! Wednesday she signed "milk" correctly (as in "correct situations") and Thusday she signed "eat." We are very pleased and will teach her more signs.
She still likes to say Uh-oh.
We got her a tub of Lego Quadros, but she does not know how to build anything yet. When you make her something, she likes to demolish it. She likes to take the blocks out and put them back in. Her mom was very surprised when she cleaned up the floor after she played. Good baby.
She likes to go outside and walk around, so we are thinking of making our yard kid-friendly. Right now, the only kind of plants thriving in our yard is weeds.
Posted by Mike at 09:36 PM | Comments (0) | TrackBack
October 03, 2005
Reach
Katy likes to walk about, but we must hold her hands. If we let go off just one hand, she would freeze.
Yesterday, she played chase with her daddy. She would "walk" toward him and get his attention. After he had his arms out, she turned around and "walked" away. She then immediately turned to look at him and smile at him again. As he started moving toward her, she turned around and "ran" away. Fun game for the baby and the daddy, but hard on the mommy's back.
Other than that, she LOVES to say Uh-Oh.
Posted by Mike at 10:17 PM | Comments (2) | TrackBack
October 01, 2005
Rocking Puppy
Posted by Mike at 11:59 PM | Comments (0) | TrackBack