« January 2009 | Main | July 2009 »
May 30, 2009
Two Days Later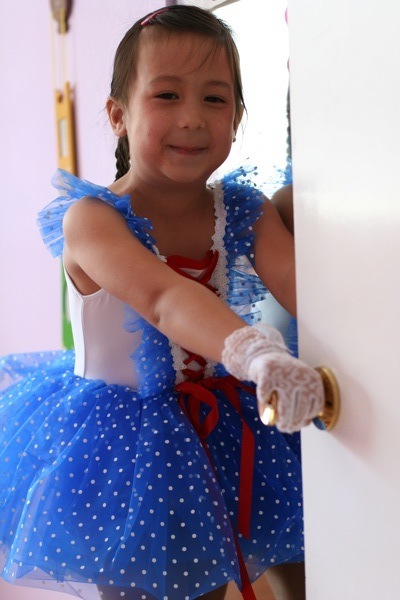 Monkey has another set of tubes put in on Thursday to improve her hearing. Recovery takes longer this time. Poor thing.
Here she is in her recital costume. You can sort of see her face is a bit swollen from the surgery.
Posted by Mike at 12:02 AM | Comments (0)
May 24, 2009
Missing
We were in Monterey. It was cold, so we went to a store to get jackets. Monkey was upset that we wouldn't buy her a stuffed animal, so she ran out of the store. We were busy paying the bill and helping Rugrat to put on the jacket; we didn't know Monkey went out.
It was busy that weekend in Monterey, so we didn't know where to look. We started to head back to the hotel and saw Monkey waiting at the corner. We were happy and relieved to see her but also mad at her.
After this ordeal, we took this picture of her - just in case she is missing, at least we would have a more recent photo of her.
Posted by Mike at 06:57 PM | Comments (0)
May 18, 2009
Daddy and Me
She likes to make funny faces.
Posted by Mike at 06:55 PM | Comments (0)
May 10, 2009
Cocktail Dress
MonkeyDaddy thought this dress looked like a cocktail dress. MonkeyMama thought she looked grown up in this dress.
Posted by Mike at 12:08 AM | Comments (0)