« November 2008 | Main | January 2009 »
December 31, 2008
More Loot from Grandparents
Posted by Mike at 02:34 PM | Comments (0)
December 25, 2008
Look What Santa Brought!
Posted by Mike at 02:32 PM | Comments (0)
December 24, 2008
Cookies for Santa
Later this evening, Monkey helped Daddy bake some cookies for Santa.
Posted by Mike at 10:02 PM | Comments (0)
Christmas
MonkeyDaddy likes to talk about how when he was little, he used to have tons of Christmas presents piled under the tree.
Yeah, it looks kind of sparse here. But when you consider having an Annual Pass at Disneyland as a Christmas gift, the child is lucky to have other presents at all.
Or we could have packed the Annual Passes in fridge-size boxes. Whatever. Christmas is not all about gifts, is it?
Posted by Mike at 09:52 PM | Comments (0)
December 17, 2008
Dancers
We went to visit a school today. It was quite an experience. We like the teaching philosophy of the school, but the parental participation requirement seems prohibitive.
The school takes a child-center approach to learning. I guess it is kind of like a Montessori school. Not that Montessori is better than the others, it just seems to allow more flexibility and less structural. They not only emphasize on academics but also social skills.
Yes, social skills are very important today. When we were students we didn't know how important social skills were. Now that we work in a business environment, suffice it to say that we will take an average intelligence worker with outstanding social skills over a genius who doesn't get along with anybody.
The school also arranges tons of field trips. The 3-hour kindergarten class has about 25 field trips a year. The upper classes have fewer number of trips but each trip can be a week long. For instance, the six graders may go to Oregon for a week for Shakespeare Festival or spend a week in Yosemite. Today when we visited the school, one six-grade class went to a museum in San Jose to study Egyptian history.
This is a public school by the way.
We will also be visiting a so-called fundamental school which takes a more structural approach. Let's just say that one of us came from a very structural learning environment and is not particularly excited about it. Our daycare lady likes it because it is very strict. Lots of homework. Rules to follow. Blah blah blah. The major issue we have is that the kids may burn out sooner before they even start middle school. Guess we will find out.
The parent participation requirement at this "open" school is two hours a week minimum. It is pretty hard to arrange when you have two working parents. We talked to a parent at Monkey's daycare on how they managed parent participation at this school. He told us that they were also a two working parent family and that the only way it would work is having his mom doing the work at school.
That kind of makes sense. When we visited the kindergarten class, there were about 15 students and 5 adults including the teacher. The adult-to-students ratio was really nice, but we noticed the "parents" were a bit on the older side, meaning they looked more like grandparents than parents. The children seemed happy.
Then we visited a third-grader classroom. Only one parent (she looked more like a parent) there. They did tell us that they needed more parent hours for lower classes, but for the upper classes they needed more money.
The third grader classroom was interesting. We saw some math problems they were supposed to work on when the kids came to the class. It was quite impressive. But then again, it seems that children today need to know more than we do in order to make it. We had to know more than our parents to make it, so it is a no big surprise.
Maybe it is really nothing to some of our readers that these third graders were working on these types of math problems below: (Of course I can't remember the questions exactly but the idea is here)
1) Find the rules for these number pairs and fill in the blanks.
2 18
4 36
7 []
5 []
[] 72
2) Find three numbers that fit in this rule:
5 * [] > 25
3) Put in <, >, or = to make the following rules true:
3*3 [] 6*2
5*4 [] 9*2
and so on.
As far as we can remember, we spent a whole year memorizing multiplication table. So yeah, the kids today sure know more than we did back then.
The school seems decent enough. Of course it has outstanding test scores. But a lot of parents (a lot!) want to get into this school, so we will try our luck next month and worry about the parent participation when it actually happens. To be honest, we are aware of the fact that we won't be in the area for too long, so I am not sure how much effort we need to put in to select the best ever school for Monkey in Sacto.
Posted by Mike at 09:56 PM | Comments (0)
December 15, 2008
Christmas Tree
Posted by Mike at 09:52 PM | Comments (0)
December 12, 2008
Lots of Toys
You can barely find your children here.
Posted by Mike at 09:50 PM | Comments (0)
December 10, 2008
Mohawk
Posted by Mike at 09:43 PM | Comments (0)
December 08, 2008
Wah!
Monkey walked away sad because nobody passed the ball to her.
Children looked on wondering if she would feel better.
Naturally she would.
Posted by Mike at 09:39 PM | Comments (0)
December 06, 2008
Hanging
She saw some older kids sitting on the handrail and she wanted to try. This one was just perfect for her.
Posted by Mike at 09:36 PM | Comments (0)
December 04, 2008
Tower of Terror
Good thing she wasn't tall enough.
Posted by Mike at 09:34 PM | Comments (0)
December 03, 2008
Toontown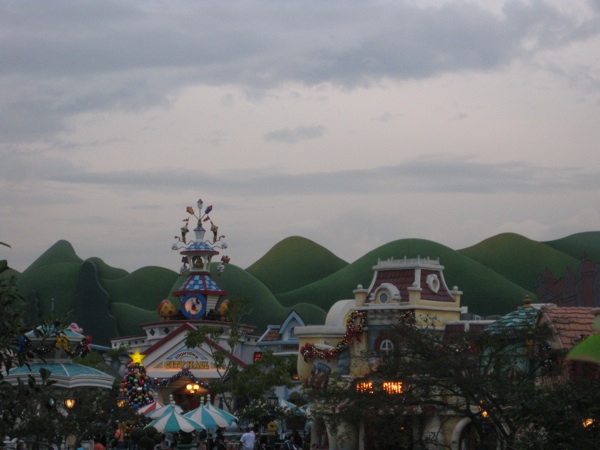 It was overcast and made a nice backdrop that day.
Posted by Mike at 09:31 PM | Comments (0)
December 02, 2008
Sad
She didn't get to do whatever she wanted to do at Disneyland.
Posted by Mike at 09:29 PM | Comments (0)
December 01, 2008
POTC
Posted by Mike at 09:08 PM | Comments (0)