« September 2008 | Main | November 2008 »
October 31, 2008
Happy Halloween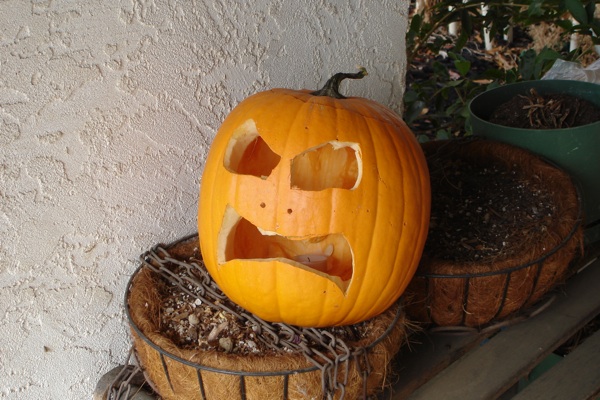 Monkey's first pumpkin. She went trick-or-treat with some kids at the daycare. She had a blast! It was sweet to see her holding hands with another little girl. So cute!!!
We carved the pumpkin when we got home (yes, it was late). Monkey's mom was busy putting Rugrat to bed, so it was just Monkey and her dad. No one could take the photo of her helping out. Maybe next year.
She wanted a scary pumpkin. Is it scary?
Posted by Mike at 09:18 PM | Comments (0)
October 26, 2008
Dental Visit
Monkey's first dental trip.
Posted by Mike at 09:28 PM | Comments (0)
October 25, 2008
Sisters
On Thursday after we got home, Monkey complained about ear pain. We were surprised because she looked healthy. No fever, no runny nose, nothing. So we gave her a kiss thinking that maybe she wanted attention.
Five minutes later, she came to us crying in pain with big tears. She demanded to see the doctor right away. We gave her Motrin. That night, she refused to sleep alone, so MonkeyMama slept with her. She cried every couple of hours and stirred frequently. Nobody got a good rest.
Friday, we called the doctor's office in the morning. While waiting to be connected, MonkeyDaddy noticed drainage coming out of her ear and she felt warm. She stayed home with Daddy that day and the doctor gave her antibiotics.
She still has more stuff coming out of her ear today.
Poor Monkey. I can't believe she has an ear infection. She literally has no other symptoms, so we had no idea she got it.
Posted by Mike at 08:17 PM | Comments (0)
October 21, 2008
Halloween at Disneyland
It is all decked out this time of the year in the spirit of Halloween. MonkeyMama can't believe she missed all this when she lived in SoCal.
In this picture, Monkey's mom was mad at her because Monkey lost a brand new sock. A very cute Minnie pompom sock. She lost it while holding the socks in her hand crossing the Main Street.
At 4 years of age, Monkey can be quite stubborn. She doesn't understand the whys, so you let her go her way and then you get mad at the perceivable consequences. And then you get mad at yourself for getting mad at a 4-year-old. Not easy to be a parent.
If you are a fan of The Nightmare Before Christmas, you should check out Haunted Mansion. Monkey was more scared of this Halloween version of Haunted Mansion. She closed her eyes until we got on the Doombuggy.
It was a very popular ride. They even issued Fast Pass.
Front yard. This is Monkey's favorite ride, so we were there day and night.
The Mansion. Too bad they don't display the actual countdown to the big day.
Jack's formula.
Doombuggies waiting area. This is where they scream, "No flash photography!" But who actually listened?
Posted by Mike at 10:31 PM | Comments (0)
October 20, 2008
How Many Birthday Celebrations Does a Child Need?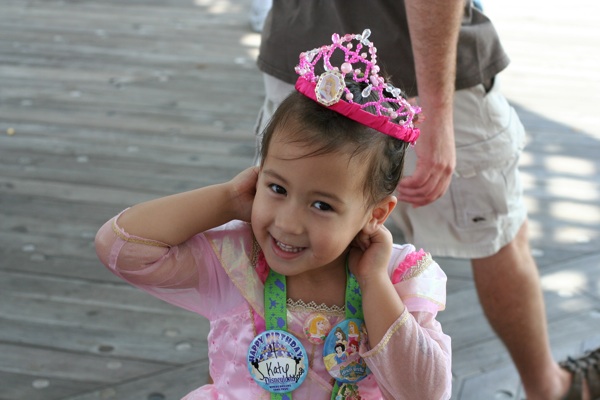 It is rather embarrassing to publish this post.
We have turned into one of those parents who would hold a week long celebrations for a child's birthday. We shook our heads when we read about them years ago. Little did we know that families and work would turn us around. So for Monkey's birthday this year, we managed to celebrate four times. Once with friends at the daycare. Once with Grandparents in Reno. Once at home on her birthday. And then once with Princesses at Disneyland.
When we went to Disneyland a week after her birthday, we first went to City Hall to get a birthday pin. Monkey also got birthday greetings from Goofy on the phone.
It was all very exciting. Too exciting for Monkey that she had multiple tantrums before we got to the main event. It has been a while since she had meltdown at Disneyland.
First we had to get the hair done.
And then twists here and there.
Add flowers to secure.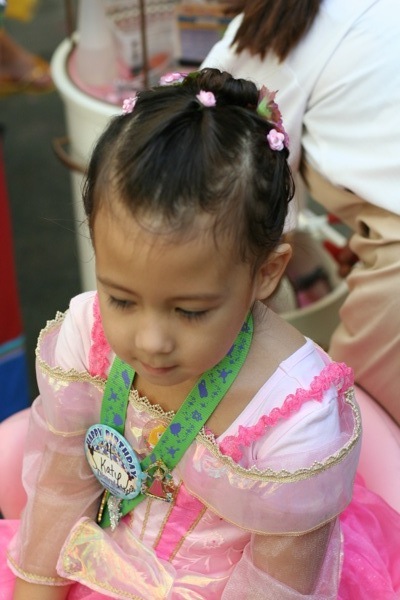 Flowers big and small.
Finish off with pixie dust.
A picture with the stylist who made this possible.
At this point, Monkey wanted to go for a ride at Haunted Mansion. We told her we had a luncheon with Princesses, but she refused to go. We had to drag her.
On the way over, we stopped for a picture with some friends.
When Monkey finally realized where we were, she was happy. Here she is waiting to be seated.
Princess Ariel wished her happy birthday. She liked that.
They changed the menus at Ariel's Grotto. The food was much better. It was well worth the price.
We started off with appetizers. There were a plate of cheese and deli meat, a plate of fruits and jello, and a plate of salad for us to share.
We ordered honey glazed chicken skewer for Monkey. She ate the chicken and the fruits.
Monkey's mom had tri tip. It was fatty.
MonkeyDaddy's cioppino. Sebastian tasted pretty yummy.
And then we shared desserts. They were wonderful.
With the new menus, we highly recommend this place for character dining.
At this point, Monkey's birthday bucket arrived. They ran out of Princess Bucket, so we ended up with a Mickey Bucket. It didn't matter, she was just as happy.
And then Princesses arrived. Here they are: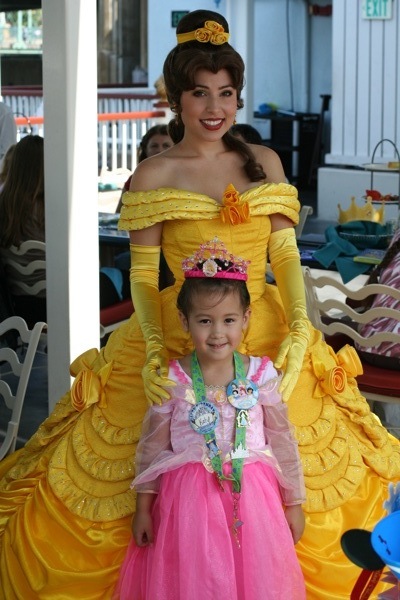 Monkey seemed to really enjoy her birthday party here. She liked having people acknowledge and wish her a happy birthday. We don't know if we are able to do it again next year because the school will be in session. But at least we did it this year.
Posted by Mike at 10:12 PM | Comments (0)
October 17, 2008
Picnic in the Backyard
Posted by Mike at 11:48 PM | Comments (0)