« July 2008 | Main | September 2008 »
August 30, 2008
My First Puzzle
100 pieces.
Monkey's Saturday class got changed; the teacher promoted her to the tap/ballet class. It is much better. The class size is smaller and the girls are similar in age. Monkey is still the tallest. The moves are much more difficult; Monkey's parents have to pay attention as well, so they can practice at home.
Posted by Mike at 02:47 PM | Comments (0)
August 26, 2008
Ear Infections Tied to Obesity
Interesting Article. Guess she will be dancing 3 hours every day.
Posted by Mike at 08:42 PM | Comments (0)
August 25, 2008
Pony Ride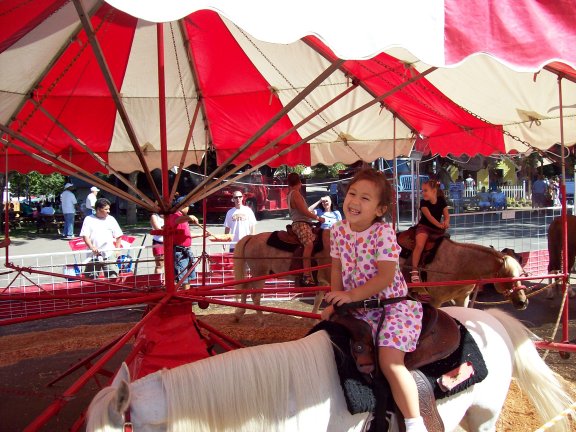 I wonder if she will want riding lessons some day.
Posted by Mike at 08:55 PM | Comments (0)
August 24, 2008
Pirates!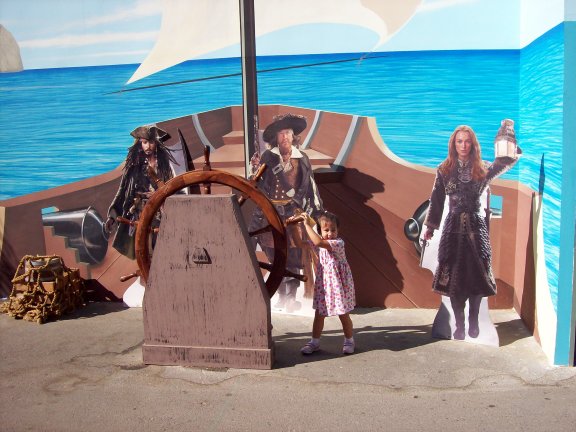 Posted by Mike at 08:43 PM | Comments (0)
August 20, 2008
My Turn
Monkey needed a turn after she saw Rugrat riding on Daddy's shoulders.
So we chatted with fellow mothers and grandmothers at the new dance school. These women have teens or tweens in far more advanced classes. We got started talking because Rugrat was a big hit. We were told that their children have dance lessons three hours a day for six days a week. That was impressive. It is a lot of commitment from everyone. These girls sure love to dance. There was also a high school girl there who used to dance but had to quit because of high school. She needs different activities or volunteer experiences to get into college. Life is not easy for kids today.
It would be nice for Monkey and/or Rugrat to explore other sports or interests before they settle on one. We have no problem with them taking extracurricular activities three hours a day for six days a week, although it would be nice if a grandma is nearby.
Sometimes we wonder if we are the only dual income family in town. Monkey is going to school next year, so we were looking online the other day for more information on the school we are interested. This school requires a lot of parental participation, which we have no problems. But the policy mentioned something like two hours of in class help on a weekly basis from parents. We couldn't understand if it was mandatory or voluntary. To spare two hours a week is more difficult to arrange than, say, one day a month. It is probably cheaper if we hire some education-major students to do it on our behalf.
Then we felt guilty for thinking that because we believed that our parents would sacrifice two hours of their time weekly if it meant we went to a good school. But we came to our senses, as we were both older kids, there was no way they could have spared two hours a week and left our brothers unattended.
We asked our daycare lady about the school her children went. That school is also a good school, but it has completely opposite teaching style. She said in class help was not required, but she did donate money to PTA and such. She said, "Who has time to [volunteer two hours a week in the classroom]?!"
I guess we should arrange a meeting with each school when we get a chance. The joy of parenthood.
Posted by Mike at 09:23 PM | Comments (0)
August 17, 2008
勞作
Recently Monkey's mom bought Crayola Mega Coloring Murals for some "Mommy and Me" bonding time. There were some arguments about who should color what using which crayon, but we both enjoyed it.
This experience sparked MonkeyMama's interest to find an even bigger mural than the Crayola Mega Coloring Murals, which measure approximately 2ft x 3ft on each sheet, but she has had no luck.
However, she vaguely remembers that this painting would be quite a feat if she can get a copy of it. Depending on which versions, the one she is interested in is from the 18th century measuring 37ft x 1ft. That ought to keep the entire family busy. Nobody is selling a coloring copy of this painting, so MonkeyMama might end up tracing the painting herself and then have Monkey color it, only after she gets a resized copy (about 23ft long) from the National Palace Museum in Taiwan.
By the way, does anybody know who sells paper this size?
Posted by Mike at 09:41 PM | Comments (0)
August 13, 2008
Ballet
Monkey has been going to ballet lessons for three weeks. It is amazing to see how much she improves over the last few weeks.
The first week, it was a disaster. We thought she might be too young. At one point, the teacher had students put on tutus. She had never put one on, so she didn't know how to go about it. Frustrated, she ran to us crying.
The second week, she was much excited. She ran around like an athlete in a competitive sport, almost knocking a little girl over. We scolded her. She pouted and cried. Other than that, she made some progress.
The third week, we asked her to pay attention to the teacher and ignored other little girls. She was marvelous. She did really well, we were happy, and the teacher was impressed with her attentiveness and performance.
The session lasts about six weeks, but students can stay on if desired. We are not sure what to do yet. The class is at 9 a.m. on Saturday. It is just a little too early. When you think about all these Olympians on TV these days and how much effort, disciplines, and sacrifices they and their families have been through, I doubt we will be raising an Olympian anytime soon.
Monkey *enjoys* the lessons. We just signed her up for a different dancing class on a weeknight. She seems to really like it as well. We will let her decide when the time comes. Other than that, it is good to keep her active.
Posted by Mike at 09:03 PM | Comments (0)
August 03, 2008
沉思
Posted by Mike at 09:56 PM | Comments (0)
August 01, 2008
Our New Favorite
Posted by Mike at 07:06 PM | Comments (0)