« May 2008 | Main | July 2008 »
June 24, 2008
New
Monkey is in a new swimming class, the next level up where parents don't get to participate. We were not sure how she would handle it; she is doing quite well. Yes, when we are around, she acts more like a baby. Once she is out there, she is a big girl. Guess she is ready for school next year.
We got a new zoom lens. Very nice. This picture was taken with the new telephoto zoom lens.
Posted by Mike at 08:11 PM | Comments (0)
June 21, 2008
Playing with Scissors
Last month, Monkey's mom read this article on unrealistic expectations. It is so true; Monkey's mom always buys her age inappropriate books and toys. For instance, back in April, her mom got her this book. Notice the cover says Age 3.4.5 and Monkey was over 3 and a half back then. Consequently, her mom was puzzled (and frustrated) when Monkey didn't know how to use scissors skillfully. A couple of weeks later, she found this book at Target. This book's cover says Age 2 and Up. They have been working on this book together. Monkey loves it and often asks to work on the new book. Monkey's mom is happy that she finally got it right. Everybody is happy in this family.
Oh! The other day Monkey was to cut squares off the corners of a picture. One of the corners she didn't quite complete, so she decided to tear it off. Her motor skills were not that refined; she tore the picture apart. Monkey cried about the torn picture, but the only response she got was a good old yelling from her mom ("You were supposed to use scissors!"). Yup, just like her parents, always look for a shortcut.
Posted by Mike at 10:45 PM | Comments (0)
June 20, 2008
Mouse Ears
Monkey has been asking about Disneyland for the last few weeks.
Posted by Mike at 10:52 PM | Comments (0)
June 16, 2008
Post Father's Day
Rugrat had a checkup today. Also a big girl: height at 95th and weight at 80th percentile. She received a few shots today. The daycare lady said she would cry in pain from time to time, and it broke her heart to see her tears. Poor baby.
Yesterday we went to a restaurant to celebrate Father's Day. Monkey would chat with anybody who would listen. Yes, people could understand her very well now. Just like our old pediatrician said: kids at two, only moms could understand their speech; at three, the family; at four, everyone else. Now Monkey's mom is trying to speak to her in Mandarin again. Monkey is quite amused by it.
Yesterday Monkey made a statement that she would only have girls as friends. We asked her if Daddy was a friend. She said yes. Then we asked her if Daddy was a boy. She replied, "No, [Daddy] is a girl."
Posted by Mike at 10:36 PM | Comments (0)
June 15, 2008
Father's Day Photos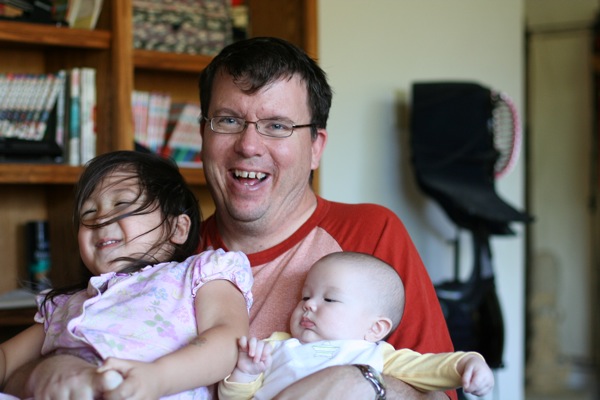 Posted by Mike at 12:17 AM | Comments (0)
June 09, 2008
Swimming Lesson
Monkey was signed up for some local swimming lessons. We started her at the very basic level, where a parent was required to participate in water. At the end of the first class, she happily told the other parent, "I LOVED it!"
I think maybe we started her swimming lesson a bit too late; she is a little afraid. That may improve later on. With her multiple ear infections and tubes, we wanted to play it safe, although the ENT did assure us that it was okay to go swimming in a pool.
I hope the Rugrat can avoid ear infections. That way, we can sign her up next summer!
Posted by Mike at 11:20 PM | Comments (0)
June 08, 2008
Friends
We went to visit friends today. This friend had a nice kiddie pool and a good sized sandbox. Monkey loved it. She kept telling us she wanted to stay here. We had to drag her home. It was fun to visit friends; they always have different toys than yours.
Posted by Mike at 12:14 AM | Comments (0)
June 06, 2008
Kung Fu Panda
We went to the movie tonight. It was a very interesting experience. We went to a drive-in theater. I think Monkey liked it, although she was very tired at the end of it. Rugrat was content; she didn't mind being there. On the way to the theater, we noticed that the traffic was much lighter than usual, probably due to the gas prices. And then, as we exited the freeway to get to the theater, it looked as if the whole town was there to see a movie on Friday night. The drive-in was a bit rundown and the restroom was disgusting. Monkey shouted "Yucky yucky" on the way back to the car. I think they could learn a few tips from Disneyland. Now we know what to expect, we will be ready next time. It was fun. We will definitely do it again. Probably won't visit the restroom.
Posted by Mike at 09:27 PM | Comments (0)