« June 2007 | Main | August 2007 »
July 12, 2007
All American Girl
Good news: we heard back from the company that manufactured our trailerbike that the moose rack will be available in the fall and they will also bring back the trailerbikes in production next year. Can't wait to take Katy out on the (half)bike.
We are thinking of maybe taking the tandem with us when we go do our touristy stuff in SoCal in a couple of months. Bikeriding is very fun in L.A., especially going from the inland to the ocean. We haven't tried the trails from the inland to the mountain; it might be cool enough to do in the fall. L.A. has many decent biketrails. Katy might like riding in the trailer. Or we can bring her trike so she can pedal with us.
This morning Katy's mom dropped her off at the daycare. Usually her daddy does that, but today her mommy got to do it. Well, she didn't like it; she didn't want to go to the daycare. Katy cried (with big, big teardrops) and held on to her mama very tight. It was *hard* to let her go. Some working moms said that kids usually give the moms harder time at the drop-off in the morning. They are less teary when dads do the drop-off. Certainly true in our family.
Posted by Mike at 10:56 PM | Comments (0)
July 09, 2007
A Spender's Dilemma
Before Katy joined our life, we used to bike a lot. We took our tandem everywhere and would find new places to bike. Last year we introduced Katy to the bike trailer. She seemed to like it (she fell asleep), but we didn't have time to bike because one of us has been busy with school.
Now Katy is bigger and someone is almost graduating, we feel we should take Katy out biking with us as often as possible. She can still sit in the trailer, or we can get her a bike like normal parents do. But no, one of us wants to get her one of those trailerbikes.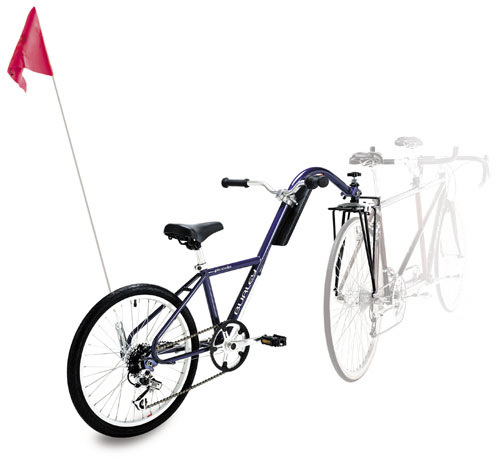 The company that used to make our tandem also made trailers or trailerbikes. We just learned that last year there was a change in the ownership, so the company makes only trailers now. We couldn't find anyone selling the trailerbike model we like except maybe Britain. The half-bike cost about $349 ~ $369 when it was available in the US, last year. For some reason, you can still get one of these from England for £360 plus shipping today. We didn't think we wanted to do that just yet.
So we poked around to see if we can get a second-hand halfbike from someone. Well, we found one and paid a very good price for it, but it is missing a very crucial component: the moose rack that joins the trailerbike to the tandem. So basically we got this half-bike we couldn't use in the garage. We have been looking around to see how we can get ahold of a moose rack and found out that we were not the only people looking. Again, we could get it for £89 from Britain if we are willing. The total cost, after getting all the parts to make the trailerbike work plus the cost of the used half-bike, may cost as much as this.
That's right, an iPhone. And way more expensive than when it was brand new (and available) last year. We have been asking ourselves if it is worth it. Probably because we want it so bad, we think it is.
And of course, since we have been looking at the bikes and such and we now have three people, we are looking at the possibility of getting a triplet.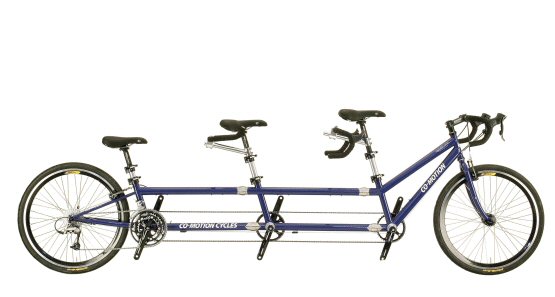 A triplet, if we want to make it convertible (to a tandem) and checkable (as an airline luggage), would cost in the range of a Kia (with no options). If we save for it, it may take us a few years. Maybe we will forgo little trips here and there to reach the goal. Or maybe we just liquidate Katy's education account to get it today. Imagine how much joy it will bring us! Just kidding! We would not do that.
Posted by Mike at 06:46 PM | Comments (0)
July 06, 2007
Firework
So we took Katy to her first Fourth of July Fireworks. They didn't start until almost 10. It was very hot that night, we let Katy walk around in pull-ups while waiting for the firework display. When they finally started, she loved it. She was not afraid of the noises. She was sad when it was over. That night, Katy went to bed at 11. We don't know if we want to do that next year. Maybe we should just take the day after off so everyone can sleep in. It was hard the next day.
Today when Katy's daddy happily chowed down a burrito, Katy said to him, with facial expressions and everything, "Oink, oink."
Posted by Mike at 10:19 PM | Comments (0)
July 02, 2007
Broken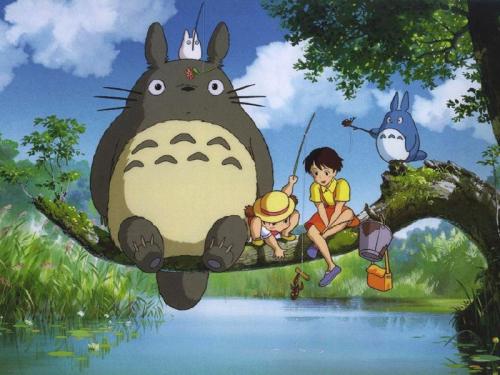 Today Katy stayed at home with her daddy. In the middle of the day, she informed her daddy the TV was broken. Her daddy went check out the TV and noticed that My Neighbor Totoro DVD was speaking Japanese. He switched it to Mandarin, and Katy happily thanked him. Our Totoro DVD plays in Japanese or Mandarin. Since we want her to learn Chinese, we always play the Mandarin track for her. We also have an English copy but have never shown it to her. Will she be mad when she finds out there is an English version? She probably understands English better.
The doc visit went fine. Her ear was red (tubes still in), so the doc gave her antibiotics. Katy behaved very well at the checkup; she thanked the doctor afterwards. She seems much happier today.
Posted by Mike at 07:20 PM | Comments (0)
July 01, 2007
It's Summer. . .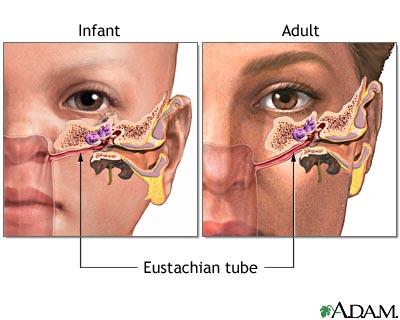 and Katy probably has an ear infection again. Sigh.
Well, she was crabby all weekend. Today she pulled her ear and said it hurt. Poor thing. I don't know what to say. We are taking her to the doctor tomorrow. We didn't know our pediatric clinic was open until 2 today. Next time we will remember to call sooner. It's been a little over a year since she had the tube surgery. I wonder if they are still in place.
Posted by Mike at 04:00 PM | Comments (0)