« February 2005 | Main | April 2005 »
March 30, 2005
$27,612.50
is how much the hospital charged us to have this baby. We have to teach her how to use the keyboard, so she can go to work and pay for the fees.
We were in the hospital for five days (or six, depending how you calculate) and knew that it could be expensive, but we were blown away when we received the bill today. It cost like twice as much as we thought. Wow. And of course, we will probably receive another bill from the doctors for the professional charge. Ouch.
Posted by Mike at 07:48 PM | Comments (0)
March 29, 2005
Time for Bed
Please, Katy, please go to sleep.
For the last few nights, Katy decided to wake up at 3 in the morning. It is pretty hard when you have to go to work the next day.
Posted by Mike at 09:49 PM | Comments (0)
March 27, 2005
Hat
Here is our attempt to make her look like a girl. She can sit pretty well, but she still needs her hands for support or balance.
Katy loves the daycare. She seems to like everyone there equally. She has no friends yet, but there is this little boy who likes to approach her if she is finally sitting down on the floor. The little boy is almost one year old; we think he may be confused about Katy's age. Also her lack of hair. He may think she is a one-year-old boy, just like him! They were playing peekaboo together last Friday and the teachers just thought it was the cutest thing in the world. It is funny how you often hear that babies don't need socialization because they don't play with other babies. However, if you spend a day observing an infant/toddler room, you would say otherwise. Katy loves babies; she would babble at them when she is next to one. She also loves to watch bigger kids playing or horsing around; that always makes her laugh heartily.
Posted by Mike at 10:24 PM | Comments (0)
March 22, 2005
Buds
Here you can see her little teeth.
We had a well-baby visit today. Katy is still off-chart. If she stopped growing now until she turned one, she would be at 13% for height and 38% for weight. Pretty big baby.
Unfortunately she still has fluids in her ears, so we will be watching for signs of hearing problems.
Posted by Mike at 05:46 PM | Comments (0)
March 20, 2005
Hmm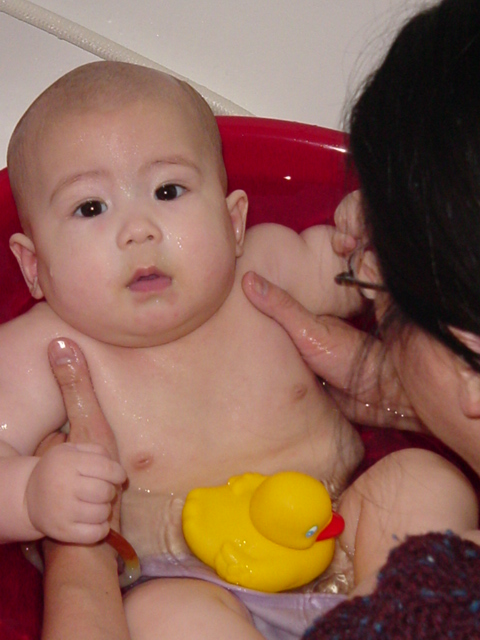 Yup, she looks like a little boy.
Posted by Mike at 11:08 PM | Comments (0)
March 17, 2005
All Better
It is nice to have a healthy baby. So far she's been to school for two weeks and out for two weeks. We will see how she is doing next week!
Happy St. Patrick's Day (yes, we noticed that Katy was not in green today).
Posted by Mike at 09:23 PM | Comments (0)
March 14, 2005
Before Sick
Here is a picture of Katy before she was sick. Her eye infection progressed into ear infection later last week. The poor thing was bawling at night because of pain. Normally we could deal with a fussy baby at night; unfortunately, one of the parents was also very sick, it was pretty tough to take care of her. Kind of makes one wonder how the single parents handle it.
Posted by Mike at 05:35 PM | Comments (0)
March 08, 2005
Firsts
Katy experienced her firsts over the weekend. First time she had a cold and first time she cut teeth (two at the same time)! We gave her teethers, but she didn't seem to care for them, so we gave her a gum stimulator. She was addicted to it. In this picture, you can see her eyes are a little teary: she got eye infection. Poor little thing.
Posted by Mike at 08:40 PM | Comments (0)
March 03, 2005
More Cat
She is interested in the cats (or, shall we say, their bushy tails) just as much as the cats in her. Wallace (in the picture) would meow at us if she is crying in another room. We'd like to think he is showing his concern as opposed to annoyance.
And today is her grandma's birthday (although today is almost over in 30 minutes).
Posted by Mike at 11:24 PM | Comments (0)
March 02, 2005
Cats
Posted by Mike at 05:22 PM | Comments (0)
March 01, 2005
Katy The Acrobat
This is the second week of her daycare life. So far so good.
Posted by Mike at 09:23 PM | Comments (0)