« March 2008 | Main | May 2008 »
April 30, 2008
Baby Doll
Rugrat looks like a doll here.
Posted by Mike at 07:43 PM | Comments (0)
April 17, 2008
傑作
這是猴子畫的狗
一張臉
眼睛
鼻子
嘴巴
耳朵
鬍鬚
還有尾巴
沒有身體
Posted by Mike at 02:26 PM | Comments (0)
April 14, 2008
散步
Posted by Mike at 10:39 PM | Comments (0)
April 12, 2008
Piccolo
It's a beautiful day today. We finally hooked up the Piccolo to the bike. Monkey LOVED it. We are going to take her for more bike rides before it gets too hot.
The seller of the trailerbike actually found the moose rack, so we didn't have to look all over the world for it. However, we plan to get another moose rack for our tandem, so we have the option of having Piccolo attach to it.
The maker of the trailerbike is releasing new models this year. They are actually cheaper than the old models. We think it is because the old trailerbikes were made in the U.S. and the new ones are imported from somewhere.
Now we just need to save money for a quad, then we are all set.
Posted by Mike at 06:34 PM | Comments (0)
April 11, 2008
Sisters
We love this picture.
Last night, we had Rugrat join Monkey in the bath briefly. Monkey really loved it. She held Rugrat lovingly and poured water over her body to keep her warm. Rugrat seemed to enjoy it too, although she looked a little bit scared.
Posted by Mike at 02:08 PM | Comments (0)
April 09, 2008
人頭照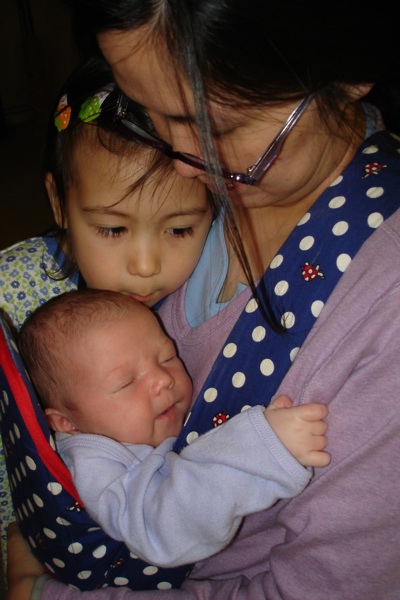 Posted by Mike at 11:26 AM | Comments (0)
April 07, 2008
New Camera
Posted by Mike at 09:58 PM | Comments (0)
April 01, 2008
I Am (Not) Your Friend
We took Rugrat to the daycare today to meet the folks over there. She was sleeping most of the time. It makes her mom very sad that she would be going to the daycare in two weeks.
Her mom's work has an office in Huntington Beach, so she has been thinking about the possibility of bringing the girls to SoCal and working at that office for a few months. But it is going to be expensive to maintain two households, not to mention the strains on the marriage. Perhaps we should work hard to get promoted to the company's headquarter in Woodland Hills, then we all move down there.
Anyway, as Rugrat's mom was at the daycare, she noticed something interesting about 3- and 4-year-old girls: they like to ask each other if they are friends. Yes, when things aren't going Monkey's way, she screams, "I'm not your friend!" Alas Little Monkey, we are your parents, not your friends.
Needless to say, Monkey was very protective of Rugrat at the daycare. She is a very good big sister.
Posted by Mike at 09:41 PM | Comments (0)