« August 2007 | Main | October 2007 »
September 21, 2007
B-Day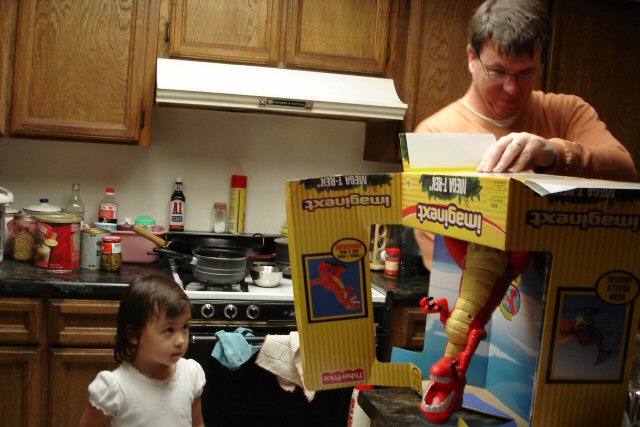 Like last year, we got Katy a balloon when we went pick her up at the daycare. It was a Princesses balloon this year. After we got home, Katy opened her bag of candy and ate some chocolates. She was so happy that she shared some with her mom.
We waited around for the other parent to come home. After that we went out to eat. We told her that we were going out to eat and have some birthday cake. She was very excited.
First we went to Claim Jumper. The parking lot was full, so we decided to go elsewhere. Katy was slightly disappointed.
We then tried Macaroni Grill. It was a 20- to 25-minute wait. Katy was very upset that we didn't get seated right away. After crying for five minutes, the parents decided to go elsewhere. Katy had a meltdown. She screamed and screamed as we drove away. She wanted her birthday very badly. We had to pull over to console her. It was not easy to celebrate birthday on Friday.
We ended up going to Carrows. No wait at all. The average age of patrons there was about 65. Katy was much calmer and happier.
Then we got home and gave her gifts. All toys this time. She got Princess stuff and Dinosaurs. She was happy.
Katy had a physical the other day. She is tall for her age. Her BMI puts her at the risk of being overweight. We are not really concerned as we notice she has been thinning out. We plan to take her out hiking on the weekend when the weather is good. I think she will like that.
Posted by Mike at 11:56 PM | Comments (0)
September 17, 2007
The Trip
I don't know a good way to write about this trip. I think we all had a good time, but it was too much. We got one of those City Passes and did all attractions within a week. The Pass was good for two weeks and I think we would have done better if we had spent two weeks instead of one.
Traveling with a toddler was stressful. Before we had Katy, we were able to enjoy our vacations wherever we went. With her, it was different. You never know what to expect. She was pretty exhausted at the end of each day. We only spent four hours, at most five, at each place each day, but it was still too much for her. She enjoyed Disneyland the most, needless to say. I think she would have preferred that we had gotten a 5-day pass at Disneyland.
We started our trip at Universal Studios, then drove down to San Diego to visit the Sea World and the San Diego Zoo, and then finished with a three-day trip at Disneyland. Yeah, amusement parks are really something. You tend to run into rude inconsiderate people at these places. I think it will be a while before we return, although we don't rule out getting annual passes at Disneyland.
Yes, Universal Studios. It was not suitable for young children. Katy got terrified on the Studio Tour. I shall put out a spoiler alert for those who have never visited the Studios: please stop reading and skip over to next paragraph. Anyway at one point we were doing this special effects scene. First there was this earthquake. And then King Kong, who was hanging on by the bridge, started shaking the cables and made the tour tram move. Thereafter all Katy would say was, "Monkey broke the bus. Scared." She would say it over and over again for the first few days and maybe once a day for the rest of the trip. Poor thing. We also watched the Shrek show. It was okay; Katy didn't like waiting or being squirted at.
We ran into a couple of characters there: Sponge Bob, Dora, and Diego. Katy was scared and would not take a picture with any of them. I guess they were much larger life-size.
Her favorite was riding on this slide. As you can see, it requires manual effort. Katy rode it five or six times and we really had to stop her. For one, she couldn't turn the handle herself, so she couldn't contribute for the others. Yeah, there were tantrums and stuff, but we finally got her off.
I think Katy enjoyed the City Walk more. It is cheaper anyway (free admission). We might go back because they have many good places to eat. Katy loved to play in the fountain. She was soaked wet and we had to remove her by force again. Poor thing, if only we would let her!
Next day we drove down to San Diego. What a nice place. We were so busy on this trip that we didn't have time to visit the beaches! We went to the Sea World. This is the only picture we took. Again, Katy is probably too young for Sea World. We went to a shamu show and did a few rides (sky ride and sky tower). Again, she didn't like waiting. We pretty much wrestled with her almost all the time at Sea World. She had her own agenda and refused to follow us. She would get mad easily and walked away. With many visitors around, she didn't have the choice to walk away from us. She cried most of the time at Sea World. There were more tears by the time we left. I think she was pretty exhausted. She didn't have the stamina to walk around for hours two days in a row.
By the time we checked into the hotel, everybody needed a break. It was a very nice hotel; we would stay there again. Katy was happy to lounge around. One of the parents was sick and she kept the other parent awake most of the night. The parents didn't get a good rest but Katy surely did.
Katy had a better time at the San Diego Zoo. It was one big zoo. Too big. I prefer our own Sacramento Zoo, a lot easier to walk around. Katy had never seen an elephant, so she spent a lot of time checking them out. We had trouble getting her away and finally we decided to get a stroller. Katy loved the rest of the visit. We would push her around, point out an animal, and she would stand up, take a look, sit down, and say, "More animals." She was one lazy baby. But it was really tough to walk around. There were hills and it would have been too much if she had to climb the hills. We spent about five hours there and covered at most half of the zoo. It was just too big.
Before we left, we went to the Children's Zoo and Katy got to pat some goats. She really liked it. Her favorite was this white and brown one.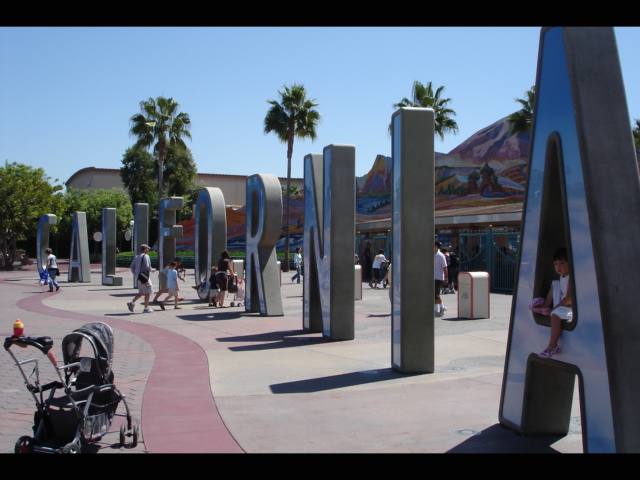 We went to the Disneyland the next day. She didn't know what to expect. She was happy to see Mickey Mouse signs everywhere. After they checked our bag (by the way, they allowed people to bring food in, isn't that nice?), Katy wanted to wander around. Here is the sign to California Adventure. We eventually dragged Katy inside the Disneyland.
We were at Disneyland for three days. Like I said, first day she didn't know what to expect. She cried when we had to leave the park. The second day, she was so excited, she had multiple meltdowns on the way over. We drove too slow. She wanted to dash through the parking lot. We missed the tram. All too much for Katy to handle. Too much for mommy and daddy too. She still cried when we left. The third day was an improvement. She got better waiting.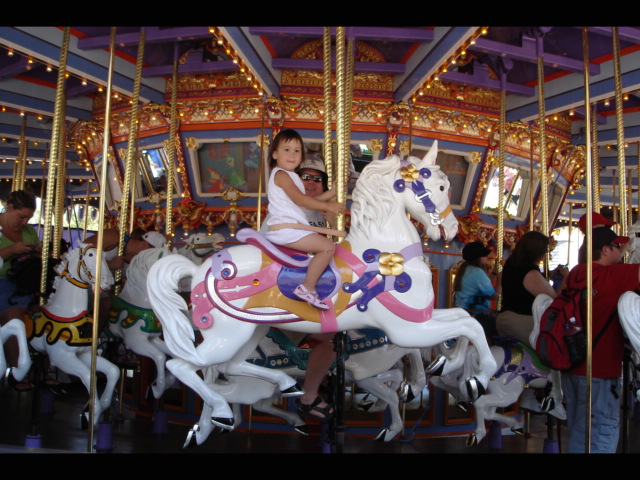 We spent most of our time at Fantasyland. Her favorite ride was the carousel. I think she rode that seven times. We managed to avoid the area one day.
We did the Dumbo ride a few times. We also checked out Pinocchio's Daring Journey and it was scary for her. We tried to get on Mr. Toad's Wild Ride afterwards; she walked away crying as we got close. We did Mad Tea Party. She loved it and we rode many times. Alice in Wonderland we rode once and we tried to point out happy things to her so it was not scary.
We rode the Jungle Cruise. Katy's daddy thought Pirates of the Caribbean would be good to try, and all Katy said on the ride was "Not scared. Not scared." to reassure herself. Totally inappropriate for her. We did Autopia. That girl loved to drive. "it's a small world" was a big winner. Later we did Mark Twain Riverboat and Disneyland Railroad. We only got to see the fireworks one night. It was truly spectacular. Probably the best display we have ever seen. Katy was really impressed.
We spent only two hours at California Adventure. This was the first time for all of us. If you have little ones, we highly recommend "a bug's land". There were many rides suitable for little kids. It also had this water playground for kids to get wet. Katy liked the Golden Zephyr and Jumpin' Jellyfish; both were located at Paradise Pier.
Tuck and Roll's Drive'Em Buggies was similar to Autopia. And Francis' Ladybug Boogie was like Mad Tea Party. Naturally she liked both. The rides were much shorter at California Adventure.
As you can see, we didn't do many rides at Disney. We spent most of our time waiting for Princesses. Two of the days we waited in line for Princesses. It took on average two to three hours each time. Katy's daddy wanted to avoid the entire area one day. Katy's mommy felt guilty; she would have indulged her. That day we managed to see the Parade and there were Princesses. Knowing Katy, she would have preferred more personal attention from the Princesses.
We went to Ariel first just to see what Katy thought. She was very shy. All the Princesses were very friendly and patient (and sweet), and they took time to talk to each child (which was why the line was so long). We didn't have an autograph book the first day, so Katy missed a few Princesses' signatures. We tried to go to Ariel's Grotto but it was all booked. Maybe next time.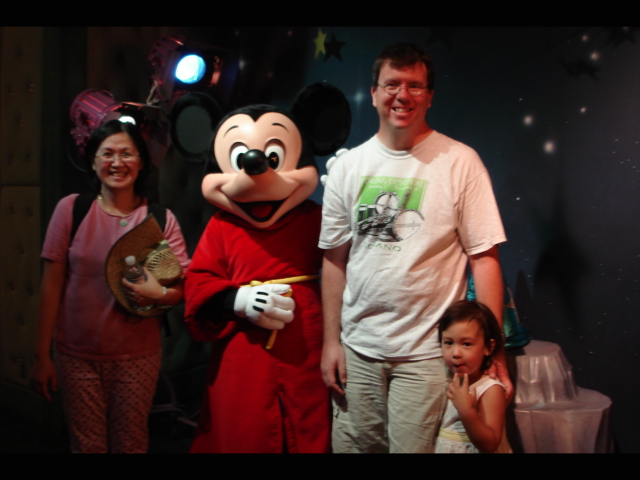 Katy was afraid of Mickey. She wouldn't stand next to him.
Katy and Mulan.
Katy and Sleeping Beauty. I think she was her favorite because her dress was pink.
Pocahontas noticed her alphabet dress that Grandma made for her, so she asked her to sing ABC with her. Pocahontas was really nice.
In the area nearby, they had this Royal Coronation Ceremony. Here is Katy decorating her crown. They also had a "royal salon" where little girls could have their hair made like Princesses and facepaint for $62 ~ roughly a single-day theme park ticket. It was really fancy; I don't know if it was worth $62. Katy's hair is too short for the stylists to get creative.
After the Ceremony, there was Royal Dance. The moves were way too complicated for little girls and daddies.
We saw Minnie one of the days and were waiting in line for her autograph. But she had to hurry elsewhere, so all we got was a pat on the head. Katy wasn't shy nor afraid at this point. She got used to it.
A picture of Snow White signing Katy's book.
Here is Cinderella. She later danced with Katy at the Royal Dance. We didn't get a picture of that.
We got Mulan to sign the book. I wonder if Katy knew it was a different person? The interesting thing was when we gave her the book and told her to give to Princesses, she knew right away what it was for. Did she observe other little girls with their books? We didn't tell her that the Princesses would write in the book, but she seemed to know.
All in all, I think Disneyland is a truly magical place to little kids (girls especially). We are thinking of getting Annual Passes next time we visit SoCal. It is really hard to plan a vacation with little kids. She only asked to go back to Katy's house twice, so that was good. But does that mean she enjoys vacations in scenic nature less? I guess we can just do Disneyland from now on until she is ready to appreciate the nature. It is better to get her out walking. If it is Disneyland, then it is Disneyland. By the way, Katy saw the stroller rental one of the days and asked for it. Her daddy refused. We didn't get a stroller for her at Disneyland. I think Katy's daddy ended up carry her around on the shoulders.
Posted by Mike at 05:57 PM | Comments (0)
September 03, 2007
Eureka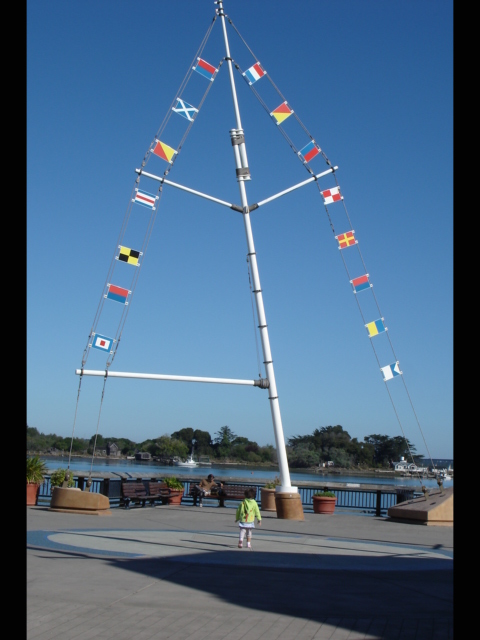 It was over 100 degree in Sacramento during the Labor Day Weekend, so this family decided to go to Eureka. We would have gone to San Francisco, but the Bay Bridge was closed. But no loss, we had a good time in Eureka. Don't know how many of our readers can read nautical signals; the flags read, "Welcome to Eureka." Katy was going "super fast" to the guardrails.
It was about 30 degrees cooler in Eureka. Very nice. We took Highway 36 (using Google directions) to get to the North Coast. Katy's mom would never do that again. It was one of the scariest drive in her life. The road was very narrow and winding. Good thing Katy slept through most of it. There was no traffic. We passed about 10 cars and 20 motorcycles.
Checking out this almost perfect spiderweb on the rail.
Waiting outside the gift shop for her mommy. Things were expensive, but it seems like you can find US-made goods only at the tourist traps. We got Katy a sweater and Jelly Belly beans.
Feeding Daddy one of her beans.
Chasing after the "eagles." Yes, it was amusing that she called these flying rats eagles.
After she chased all the eagles away, we went on to Ferndale. Katy was exhausted, so we just drove through the town and moved on south. Katy's grandma would love to live here. It was all Victorian houses, with population of almost 2,000. If I were to raise a dairy farm, I would move here instead of Central California. Cows seemed much happier in Ferndale.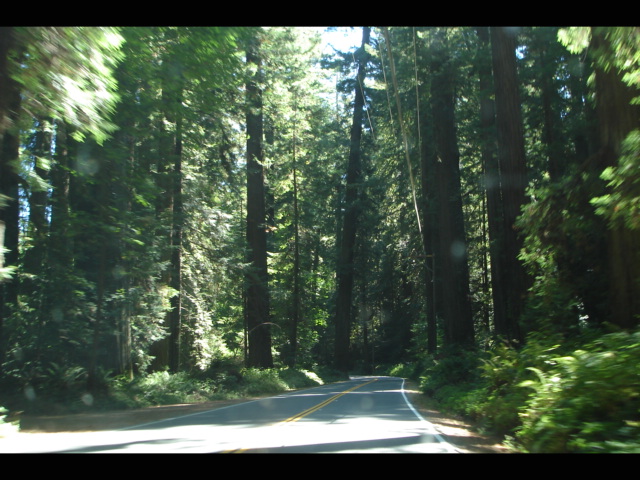 Avenue of the Giants is about 30 miles long one way. Katy slept through the drive going south - guess she was really tired from those eagles. It was truly impressive. As we drove south, the temperature rose; I think the north and south had probably about 10 degree differences in temperature.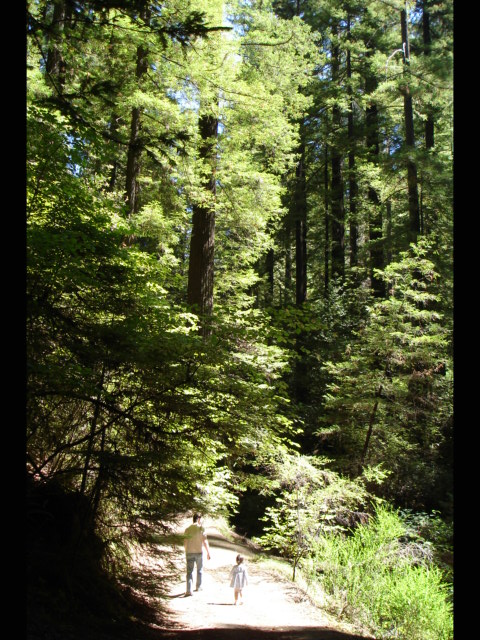 On the way back, Katy woke up, so we found a good stop to do some hiking. We hiked for an hour, we didn't reach anywhere because we had no trail maps with us. An hour hike was long enough for a little girl.
Katy's daddy tried to coax Katy into standing inside a tree. Katy didn't like the idea; she wanted to get him out. He thought it would be a nice picture of Katy inside a tree.
Checking out a fallen giant.
Crossing a bridge. By the way, there were many poison oaks along the hike trail.
We went to Samoa Cookhouse for dinner. It was very interesting. The food was really good, we all liked it. There was no menu or anything. You can call ahead to find out what they serve that day. We had roast beef and chicken fried pork steak. The soup was split pea with smoked ham. A hearty meal for lumberjacks. We found this place from Yelp, a good website to find restaurant reviews.
After the big meal, we went to the beach for the green flash. It was hazy that night, so no such luck.
On the way back home, we took our GPS advice to take Highway 299. It was a much better drive although it got crowded as you approached civilizations. Overall it was a pretty good trip, but Katy kept asking about going back to Katy's house. We are not sure about this upcoming long trip. Maybe she is not ready yet?
Posted by Mike at 10:17 PM | Comments (0)