« September 2006 | Main | November 2006 »
October 31, 2006
Halloween 2006
A two-year-old needs to exert her independence.
Sorry for the blurry picture. It is the only good Halloween picture we have this year. For starters, Katy refused to put on the costume; she was terrified. We had a cow suit (from last year) and a Tigger suit (from co-worker). We even asked the daycare to help and they couldn't do a thing. So no costume,no trick-or-treating for Katy this year.
She did, however, receive candy and stickers from the daycare. So she put the stickers onto her face and ate all the candy. I think that is what she had for dinner. She also learned a new word "pank'n."
Posted by Mike at 10:40 PM | Comments (0)
October 29, 2006
Pumpkins
We put her bed together on Wednesday; Katy was very excited to sleep like a big girl. She fell off the bed that night. Ever since then, she has been pretty good at it.
Earlier I mentioned how we were not able to find luxury sheets in twin size. It just occured to me that you can always find luxury items at Williams-Sonoma Home. I spent one fine morning to check out what it had to offer. So, here is the price list for Signature Sheeting. For 600-thread-count Egyptian-cotton sateen in twin, a flat sheet costs $190, fitted sheet $170, a pair of pillow cases $135. A complete set would cost $495 + tax + shipping and handling. Talk about luxury! It is more expensive than all our (600tc, etc.) sheets combined. If anyone has experiences with Williams-Sonoma Home, please let us know if it is worth it.
Posted by Mike at 02:36 PM | Comments (0)
October 27, 2006
Are You Looking at Me?
We went to Bishop's Pumpkin Farm last Wednesday. Katy's mom took time off to take her there because she heard it would be crowded over the weekend. It was their first time to visit a pumpkin patch. A new and exciting experience for both of them.
It was good, overall. Katy spent the first half sitting in the stroller and enjoying the famous pumpkin apple muffin. When she finally acquainted herself with the surroundings, she went free. There were many, many preschoolers on the field trip. They knew Katy was a baby even though she was bigger in size. They played with her in the hay. Katy loved the train. She was laughing and squealing with joy. We had to wait for our turn after all the preschoolers from many schools rode the train. At the end, Katy didn't want to go home, so she gave her mom this look when she was asked to go.
I think it is a nice place, although it is probably better to go with another adult, because its restroom facility is lacking. It is all port-a-potties! You can't change diaper in there and you can't leave your under-certain-age child(ren) out when you use the potty. So it was very inconvenient. Next time, we will make Daddy go too.
Other than that, we all love its pumpkin walnut pie.
Posted by Mike at 09:19 AM | Comments (0)
October 16, 2006
Portrait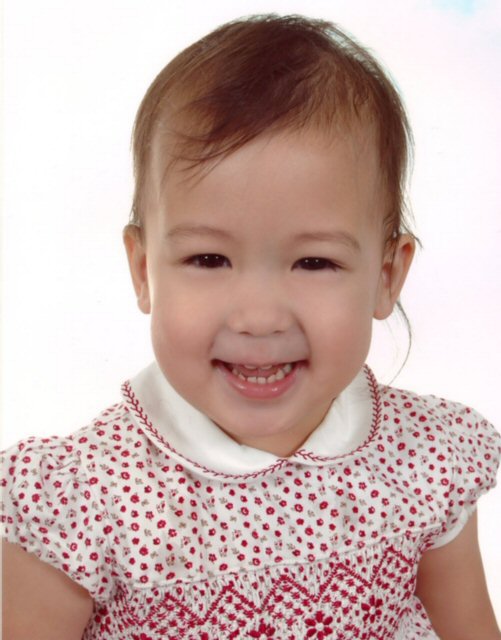 This is one of the pictures taken at a photo studio in Reno. It is just so cute that I have to post it.
Here is her grandma's summary of that event:
"The pictures should be really cute. The first round of pictures in the first outfit went well, but then the second round, in the second outfit, ended pretty abrubtly when the lady took off her shoes. Katy was pretty indignant and wanted no more of it!"
Yup, that is my girl.
Speaking of her Reno trip, we have a follow-up on that. All grandparents like to spoil the grandbabies, so her grandma bought some Dora training pants for her. We took those home but we didn't really use them because we wanted to wait until we were ready to potty train. Somehow Katy found them stashed in the closet and has been carrying a couple of pairs around. She would take one pair to the daycare and explained to other kids that they were Dora's. She would also bring them everywhere we go and we have to force her to leave those in the car, because it is somewhat embarrassing for us. It is not at all embarrassing for her, so naturally big tantrums ensue.
Posted by Mike at 08:36 PM | Comments (0)
October 14, 2006
Pondering
What is Katy's next move?
We have been running around town to get Katy a new bed. Katy has outgrown her crib. She tries to climb out of it. When we received the crib from a kind friend, we were told that the crib could be good until she turns three. But Katy is oversized; she is practically the size of a three-year-old. Anyway, we found nice furnitures from Bober's, a local children's furniture store that will be closing sometime this year. Yes, we are happy to support a local business but sad that we didn't know it existed until we read the news on the internet. (That reminds me, we should run over to Tower's to pick up something.)
We haven't put her bed together as we are still waiting for sheets and featherbed to show up. Did you know that they don't sell luxury sheets in twin size? Yeah, we kind of go all out when shopping for her bed. We figure that she is going to spend most of her time in bed, we should get something comfortable for her. Katy is very excited to see all these furniture parts in her bedroom. We can't wait to transition her.
We got a trundle underneath her bed. Originally we were going to get drawers, but the person helping us said that drawers cost $200+ (the trundle cost $78). He suggested that if someone was very motivated, someone could go to Home Depot to pick up a plywood, screw it onto the trundle, and turn it into a big storage drawer. I am thinking this someone will be Katy's grandpa. Just kidding!
Posted by Mike at 01:41 PM | Comments (0)
October 09, 2006
All Dressed Up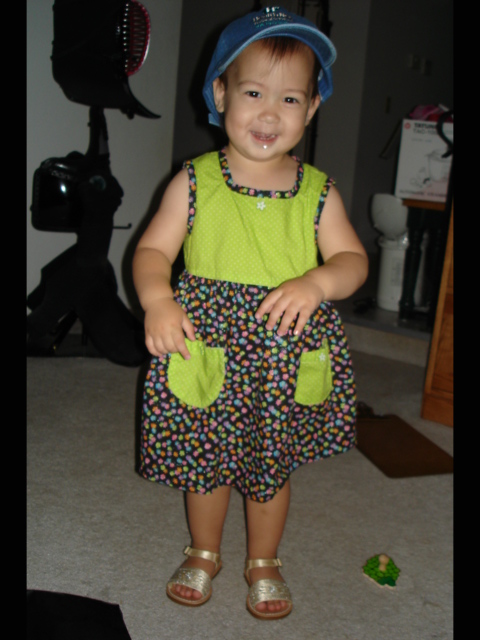 Katy believes that a hat and nice shoes are essential to an impeccable look.
She speaks more words, although the pronouciation may be a little off. For instance, she would say "do-y" for "toy" and it caused unnecessary confusion in the family. Actually, Katy's mom understands her just fine when she says "my do-y." Her daddy, however, thought she said "dowry" and panicked a little. Yes, anyone would when a two-year-old demands her dowry.
Posted by Mike at 09:59 PM | Comments (0)
October 01, 2006
Belated B-Day Photos
We took some pictures of Katy on her birthday. She got the idea of opening gifts almost immediately. We tried to contain the number of birthday gifts we would get for her; but as the day got near, we couldn't help getting her more stuff. Her favorite, as we said before, is the Dora balloon.
We all think Katy is a neat freak and that is very welcoming in this family. We can't wait until the day she is tall enough to clean our kitchen. Here is the picture of her picking up the wrapping paper.
And here is the picture of us present her the Dora doll (we really wanted to catch her excitement). She refused to call it Dora. The doll's yarn hair also freaked her out. Currently the doll is sitting on a shelf.
Posted by Mike at 12:27 PM | Comments (0)